Internet Modeler : First Look : Armor
RSS News Feed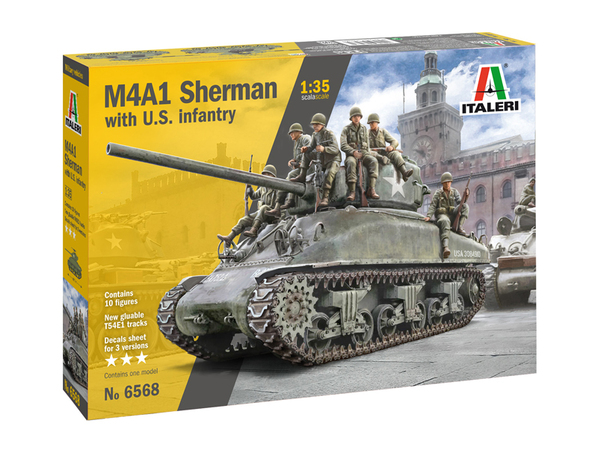 Italeri 1/35 M4A1 Sherman with US Infantry
This is Italeri's 1/35th scale M4A1 Sherman with U.S infantry soldiers. It consists of 212 parts on 5 sprues. 120 parts are for the tank kit including the rubber tracks, and the rest of the parts make up the 9 figures. ICM provides the figures.
The kit is well molded with moderate flash and minimal sink marks. The sprue attachment points are well located and the parts will be easily removed. The tank hull is nicely executed with an acceptable level of detail. There a lots of parts to add (tools, etc.) and it will look appropriately busy when you are finished. I would replace the included towing cable with picture wire as it will have greater detail. You might also consider replacing the kit grab handles with self made wire handles for greater realism and convincing scale thickness.
The suspension bogies and wheels have a good level of detail. The drive sprockets are also well done. The rubber band tracks aren't bad but don't offer the convincing "sag" of plastic or metal link-and-length tracks.
The turret is nice. The hatches can be posed open or closed. The turret-mounted machine gun isn't bad, either. The 76mm gun isn't too bad, but given that the barrel is molded in halves you might consider an aftermarket turned metal one.
You also get a tank driver figure. This well molded figure offers you a great showcase for your figure painting skills.
ICM supplied the U.S. Infantry figures and they are highly detailed. You get 9 figures. 8 of these are soldiers plus the tank commander. All of them are armed with pistols, rifles and/or machine guns.
The 9th figure is a woman and child. She has a shaved head, due to having had relations with a German. This type of punishment was common during and after World War II. That's how I interpret it. The instructions don't say a thing so you can decide for yourself.
Zanchetti Buccinasco printed the small but excellent decal sheet. The images are crisp, the colors are bright and the printing is in register. It includes markings for 3 different tanks:
U.S. Army, 752nd Tank Battalion, Vth Army, "B" Company, Bologna, Italy, April 1945. This M4A1 was Flat Olive Drab. Large white star on front glacis plate. "In the Mood II" was painted on the hull sides.
"Yellow I 35", U.S. Army, 32nd Armored Regiment, 3rd Armored Division, "I" Company, Normandy, France, August 1944. This Sherman was Flat Olive Drab with varying width bands of Flat Black. Large white star on front glacis plate.
U.S. Army, 66th Armored Regiment, 2nd Armored Division, 1st Platoon, "D" Company, Normandy, France, July 1944. This Sherman was Flat Olive Drab with bands of flat Black of varying width. Large white star on upper rear hull. "Duke" was painted on the hull sides.
The instructions include a parts map, excellent illustrations, color profiles of each tank and color call outs for Italeri paints plus FS (Federal Standard) numbers.
Italeri's M4A1 is a mixed bag. It includes a great set of figures but the tank itself is somewhat simplified in certain areas (tracks, gun barrel, etc). A novice modeler can build it right from the box and should be quite pleased with the results. A more advanced modeler would regard it as a good starting point for a highly detailed model. I suggest you fabricate your own grab handles and towing cable and substitute aftermarket parts like a turned metal barrel and link-and-length tracks to get the best from it.
I recommend this kit and I would like to thank Model Rectifier Corporation for the review sample.