Internet Modeler : First Look : Armor
RSS News Feed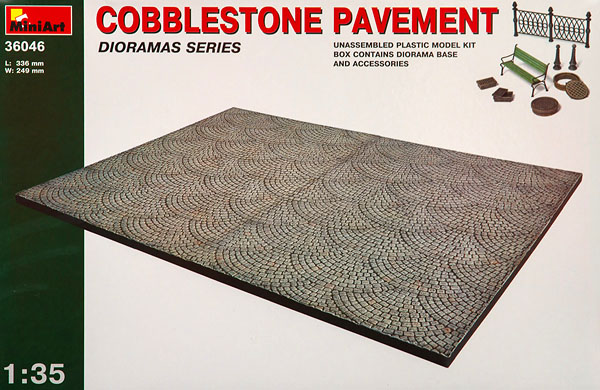 MiniArt 1/35 Cobblestone Pavement
Overview
MiniArt has really been making a name for itself in diorama kits, ranging from simple accessories to complex buildings. These are generally a combination of vacuform and injection plastic, which creates a great combination of detail and size. Some are very specific as to location and subject, while others, like this newest release, are more generic.
The Kit
This is one of those generic sets that will have great appeal for any range of subjects. There are two large vacuformed cobblestone road pieces, and two injection molded sprues with the accessory bits. The detailing overall is quite nice, with sharp edges in both the vacuform and injection pieces.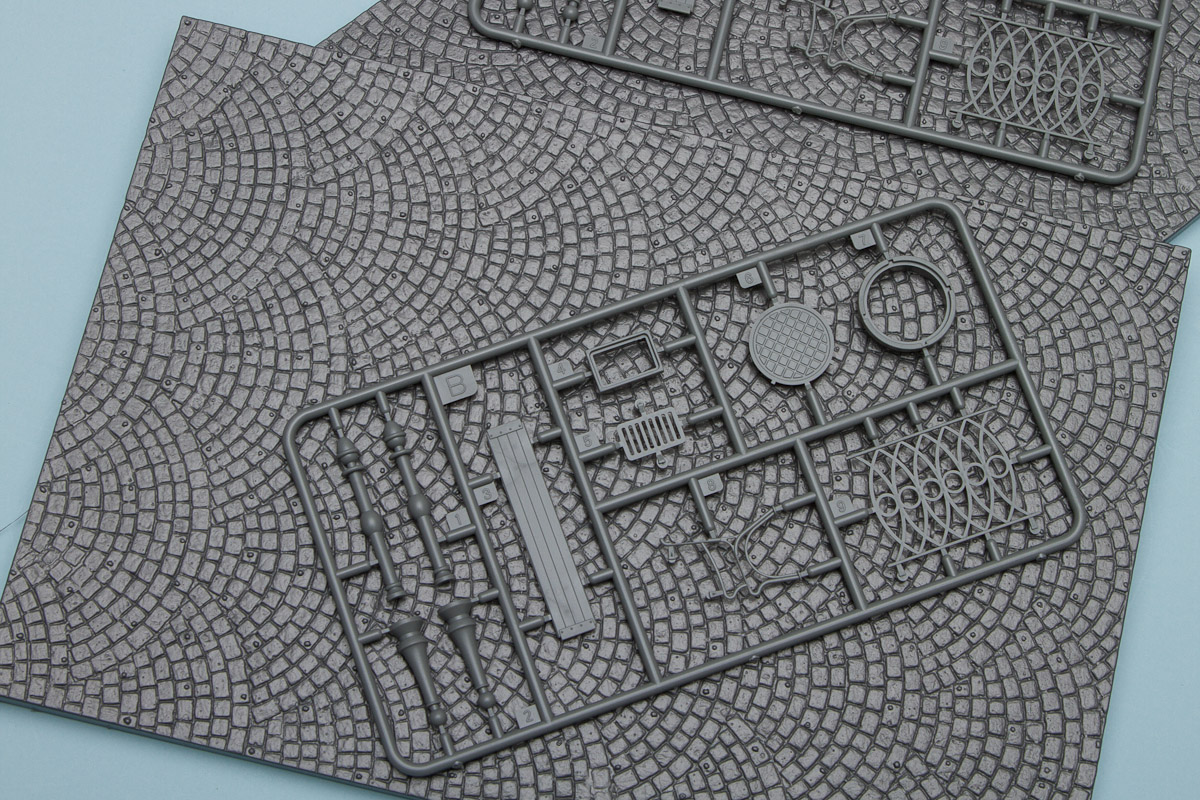 The cobblestones are carefully split up so that the patterns will mesh up both horizontally and vertically. These are done with a female mold technique, so there are pips on the pieces that will need to be shaved off. These are easy to remove with a sharp knife, though. The detailing is deep enough to show off some great weathering. With the two pieces included you can have a fairly good-sized base.
The injection plastic parts provide a host of useful accessories. There is a manhole cover and requisite hole insert, and a similar pairing for a storm drain. Both of these would require cutting into the cobblestones to get them to fit, but that shouldn't be too difficult. For stuff to sit on top of the cobblestones, there is a wrought iron fence and a pair of bollards. The neatest little accessory is the park bench, which comes with wrought iron sides and wooden back and seat pieces. All of these would make for a very nice vignette for any number of subjects.
Conclusion
For a simple display base, this is a great kit to have. A cobblestone road can be from just about anywhere, opening up possibilities for any range of subjects to place on it. Not only is the country of origin wide open, but the era as well, as the basic cobblestone road could be found throughout Europe for much of the 20th Century. If you're looking for a simple yet versatile display base, this is it. My thanks to MRC for the review sample.