Internet Modeler : First Look : Armor
RSS News Feed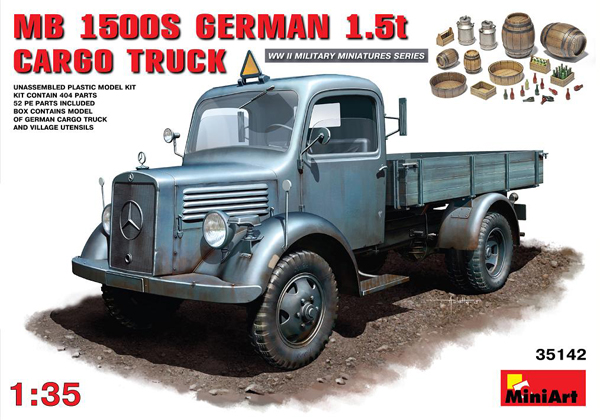 MiniArt 1/35 L1500S German 1.5t 4x2 Cargo Truck
History
The Mercedes Benz L1500S was a 1.5ton German truck that was manufactured from 1941-1944. It was powered by a 60hp 6 cylinder inline engine. Roughly 4900 vehicles of the L1500S had been produced. Most of them saw service as fire trucks.
The Kit
This kit comes with 11 light grey sprues, 1 clear sprue, 2 PE Frets, the cab and a small decal sheet. My part count came up to be 396 parts in total. The detail is very nice and crisp. I did not notice any visible flash. Mold parting lines are minimal with the exception of the accessories which have more visible lines but which shouldn't be a problem to clean up.  The PE frets are protected on both sides by an adhesive foil.
Some of the plastic parts are very tiny, so caution is advised when cutting them of the sprue is advised. The cargo bed has a very nice wood grain detail and the tires have manufacturer markings. This kit comes with a full engine and drive train and the hood can be posed open or closed, and so can the doors.
Two of the sprues contain parts for the accessories which include wooden barrels, large milk cans, wooden crates, as well as 2 different types of bottles.
The 8 page instruction booklet is nicely laid out. The assembly is divided into 38 steps for the truck and 8 steps for the accessories. The paint instructions are in color for 2 vehicles. The first is for a truck in German gray with the 229th Combat Engineer Battalion with the 197th Inf. Div, Eastern Front Summer 1942 and the second is for a vehicle with the Supply Company of the 15th Pz.Div. Tobruk area in 1942. A nice touch is a paint compatibility chart for paints from Vallejo, Testors, Tamiya, Humbrol, Revell, Mr. Color and Life Color.
Decals are provided for the above mentioned 2 vehicles. There are no decals for the instrument gauges.
Conclusion
This is a very nice offering from MiniArt and a welcome addition to non-fighting military vehicles of WW2. But this is not a kit for the beginner due to high number small parts. The addition of the accessories is a nice touch and will add live to the model either as stand-alone or within a diorama.
I would like to thank MRC for this review kit.