Internet Modeler : First Look : Armor
RSS News Feed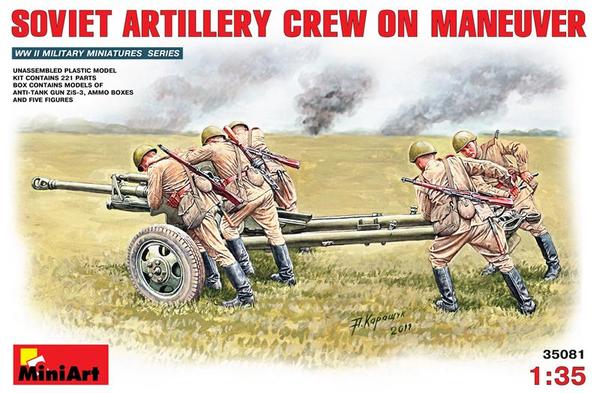 MiniArt 1/35 Soviet Artillery Crew on Maneuver
Item No.:35081
MSRP: $44.00

This is MiniArt's release of a Soviet Artillery Crew on Maneuver. What the title doesn't say is that this kit also includes a 76.2mm ZIS-3 Field Artillery Gun. But there are pictures on the side of the box and it is mentioned in the kit description .Since the majority o the parts in this are for the gun, I decided to provide some background info.

In 1940 design work started at the Artillery Factory No. 92 on a new divisional field artillery gun. Since the attitude from artillery commanders, especially Marshall Krulik, the head officer o soviet artillery, towards this type of gun was very negative at this point the design was started without an official order. This gun was the combination o the barrel of the F-22USV divisional field gun and the carriage  ZIS-2 anti-tank gun. This insured a very powerful gun on a very light carriage. The first gun that was built was hidden from state authorities since Marshall Krulik believed in rumors of extremely heavily armored German tanks and therefore forbade all production of towed artillery. It was then discovered that most German armor was penetrated easily by 76.2mm guns and production of the F-22USV gun was reordered. When the chief designer at Factory No. 92 heard about this he decided to launch the ZIS for full production. The only problem was that the gun was not officially approved. Combat experience showed the ZIS-3 to be superior to all other divisional field guns and this made it possible for the gun to be shown to a group of state officials headed by Stalin. As a result of this the ZIS-3 was officially adopted as the new divisional field gun for the Red Army. As a result of this the ZIS-3 was the most numerous build Soviet field gun with over 103,000 units. Some of these guns are still in service with some African and Asian countries today.

The Kit

The kit comes in a small box containing 4 light gray sprues with about 210 parts. Not all of the parts are needed, so some extras for the spare box. Three of the sprues are for the gun and  one sprue is for the figures. The instructions are printed in color with paint recommendations for Vallejo, Testor, Tamiya, Humbrol, Revell, Mr. Color and Life Color. There are no decals or PE provided with this kit. Let's start with the Figures.

There are parts for five figures provided in this kit. Each figure is split into Torso, legs, arms and head. Each figure comes with a helmet and there are four envelope caps and one service cap. There are also 4 rifles, 1 pistol holster and 1 Pshk  SMG with magazine and  4 water canteens.  The detail is good and there are no visible sink marks or ejector marks. But all parts have mold lines that need to be cleaned up as well as some flash on some parts. None of the parts are numbered and the parts map has to be used as reference.

The gun comes on 3 sprues with about 75% of the total part count. While one sprue has the parts numbered, the other two are not. The detail is good but again there is flash and mold parting lines that need to be dealt with. A nice touch are the wheels that come as several discs. There are also several AP and HE rounds as well as some shell casings which are not slide molded and therefore either need to be drilled out or replaced by Aftermarket parts.  Also included is a wooden ammo crate.

The paint instructions are in color which is a nice touch.

Conclusion

This is an interesting subject and would be a great addition to a diorama or could even be a diorama by itself. The gun itself could also be attached to a prime mover. Even though the kit has good detail it requires quite some clean up. But with some work it will turn into a nice model or diorama. The only other draw back in my opinion is the list price of $44 which is a little on the high side for a model of this quality.

I would like to thank MRC for this review kit.