Internet Modeler : First Look : Armor
RSS News Feed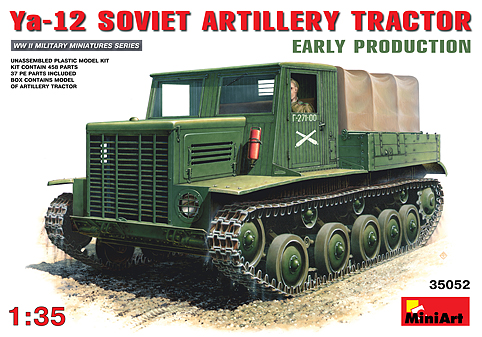 MiniArt 1/35 Ya-12 Soviet Artillery Tractor Early Production
Item No.:35052
MSRP: $81.95
History
The YA-12 light Artillery Tractor was developed by NATI designers and launched at the Yaroslav Automobile Plant. Initially it started out as the YA-11 Tractor but the Gorki Automobile Plant was unable to produce the required quantity of engines for the YA-12 and production had to be stopped.
In 1943, the Soviet Union received large quantities of the U.S. made GMC-4-71 4-cylinder engine with 110hp under the Lend Lease Contract. The availability of the engines allowed for a renewed production of the YA-11 under the new designation YA-12.
The serial production started in August of 1943 and by the end of the war 1666 YA-12 tractors had been produced.

The Kit
The open top box contains a total 7 large and 15 small light gray sprues. The small sprues contain the 180 individual links for the tracks. There is also a PE-Fret with 37 parts, a clear sprue with 6 parts, a small decal sheet and the tarpaulin for the cargo bed. Overall the parts are nicely molded with crisp detail. There no visible flash on the parts. Ejector marks are hidden and I did not notice and mold parting lines can be easily cleaned up. The instruction booklet has 11 pages. The front has a brief description of the vehicle, while the shows marking and color paint instructions for three different vehicles. No unit designations are provided. One nice touch in the instructions is the paint callout for 7 different manufacturers: Vallejo, Testor, Humbrol, Revell, Tamiya, Mr. Color and Life Color.
The first seven steps of the assembly cover the engine and radiator. Steps 8 to 16 show the assembly of the suspension and chassis, while steps 17-21 cover the mating of the engine, fuel tanks, radiator and more chassis parts to the main chassis. The assembly of the cabin and engine cover is shown in steps 22-30. The individual tracks are also added in step 30. According to the instructions they are workable and no glue is needed. The assembly o the cargo bed is shown in steps 31-42, with step 43 showing the attachment of the cargo bed to the chassis. The whole assembly process appears to be straight forward and having it broken up in almost 40 small steps definitely helps.

Conclusion
I was very surprised at the crisp detail this kit has as well as how clean the parts were molded. This is a definitely a very interesting and unique subject and makes a nice addition to every model collection. I give MiniArt 2 thumbs up. The only drawback in my opinion is the high price of $82.I would like to thank MRC for providing me with this review kit.