Internet Modeler : First Look : Armor
RSS News Feed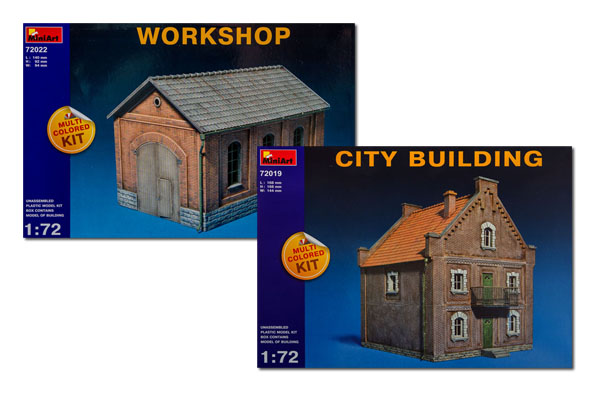 MiniArt 1/72 Workshop & City Building
Overview
MiniArt has released quite a few interesting 1/35 structures over the last couple years, providing modelers with some excellent out-of-the-box diorama material. They have now turned to 1/72 for these buildings, and like their larger counterparts, they offer some great diorama potential. Two of their first releases are the Workshop and City Building.
The Kits
Differing from their 1/35 counterparts, these 1/72 buildings are entirely injection molded (the 1/35 ones generally included vacuformed sections). The kits come molded in a multitude of colors, with most being close to the actual colors of the finished buildings. The detailing throughout the pieces is quite good, being deep enough to handle all sorts of weathering. While some of the surface textures are similar, there is surprisingly little in the way of common sprues between the two kits. That said, the detailing between both kits is identical, so these will fit together in the same scene quite nicely.
The Workshop
Starting with the simpler building, the workshop is basically a simple brick shed, with three arched windows on one wall, three small windows on the opposite wall, and a large two-door opening on the front. Construction is simple, yet complex. Simple in that it's basically a box you're building, but complex because these kits are designed to be modular and thus you have to build sections up from multiple pieces. For example, the walls with the windows are made up of five main pieces each, not counting the windows. This results in some edges that might be problematic, but if you take care in sanding the edges and do plenty of test fitting, there should be no problem.
| | |
| --- | --- |
| | |
The assembly actually begins with the foundation. This is made up from stone pieces. On this fits those walls (as well as the front and rear walls, again made up from multiple pieces). The windows feature separate framing and sills, but there is no glass provided. This would be simple to add, though, with just a thin piece of clear stock on the backside of the window frames. The doors are designed to be shut, but it would not take much effort to open them. However, if you do so, there is nothing on the inside, not even a floor, so be ready to do some serious scratchbuilding should you opt for that.
| | |
| --- | --- |
| | |
Moving on to the roof, this is probably the most challenging part here. It is made up of two parts for each side, and it is a tile roof. That means that half the tiles along the seam will be split in half. This is a prominent area and will be challenging to fill those in so as to look uniform. There are brackets for the back side, though, to add strength to the roof. The top seam is covered by separate pieces, and a gutter is provided as well.
The City Building
The City Building is of similar construction, but features more parts due to the more complex building type. This is a two-storey building, which means you'll be building twice as many walls with this kit. There are also a lot more windows to deal with, and windows of different types as well. As this is a personal dwelling, the builders clearly put a bit of pride in building it and surrounded the windows with stone work. This is provided as a separate piece, while the sill and framing are still separate. Additionally, there is an overhang along the top of the wall pieces, so a standard wall piece with a window can have up to five pieces. There are twelve windows and three doorway wall assemblies in this kit, with nine walls having no openings. That's a lot of walls to build up.
| | |
| --- | --- |
| | |
Once you have the walls built, though, this building goes together much like the Workshop. There is a stone foundation, including some steps. The roof is similarly built, and is the same tile form as the Workshop. This means it has the same problem with seams. Similarly, this kit includes gutters. As this is a two-story building, it has a bit of flair on the upstairs: a balcony with a railing.
For both buildings, the only painting instructions are on the box, which shows photos of the finished model. Really, though, you could finish these buildings in any fashion you wish. Keep it natural and go with regular brick and stone colors, or finish it in a painted fashion and go whatever color catches your eye. For those who really want a challenge, you could even try combining the two kits and create an all-new building type. That's the fun with these kind of modular kits, the sky's really the limit.
Conclusion
I've been hoping that MiniArt would produce some of their buildings in 1/72, and now that they're here, I'm really excited to see that they're fully injection molded and highly detailed. Their generic pattern will have them fitting in just about anywhere around the world, and for just about any post-Industrial Revolution period. My thanks to MRC for the review samples.