Internet Modeler : First Look : Armor
RSS News Feed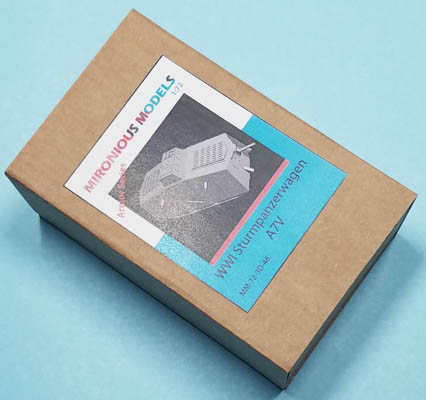 Mironious Models 1/72 WWI Sturmpanzerwagen A7V
Introduction
There have been a number of 1/72 A7Vs produced through the years, the best known probably being the Emhar injected plastic kit. However, as that kit has its faults (such as very soft detail) there was always room for better-made product.
And that's exactly what the Mironius Models 1/72 A7V is, a definitely better made product, one worth picking up if you're interested in the type.
The Kit
The Mironius Models 1/72 WWI Sturmpanzerwagen A7V is a simple kit. Heck, it's a single one-piece affair that only requires painting. But don't think for a minute that because of its "simple" design (being 3D printed as one piece) it's not a worthy model. The detail is outstanding for the type and truly - aside for decals - nothing is needed for it at all.
As was mentioned there are no markings for it, so you'll need to track down your own from the likes of Black Lion or Custom Hobby Decals on eBay, from Australia.
This will be a model to test your painting prowess as there is no construction needed. The print lines are so faint to not be an issue so aside from a primer coat, the next thing on your agenda will be painting, and figuring out how to display the tank.
Conclusion
This is a very nicely printed 1/72 A7V, with really nice detail and nothing needed to be added. What it needs is a very nice paint to bring out all the superb detail found in the print
Many thanks sent to Mirounius Models for allowing me to review this kit.