Internet Modeler : First Look : Armor
RSS News Feed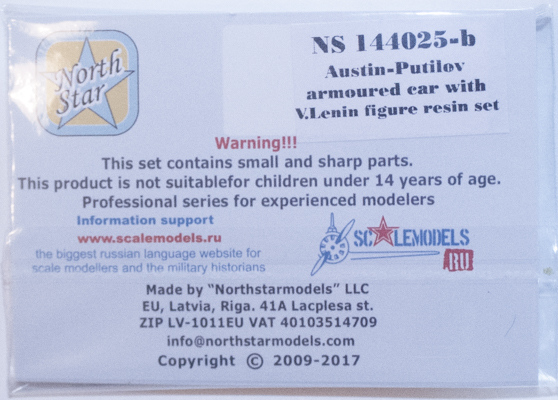 Northstar Models 1/144 Austin-Putilov with V. Lenin Figure
Introduction
I've been a fan of armored cars for some time, especially Russian WWI and Russian Civil War. I've built a couple in 1/72 (a "Russian" Austin and an Austin Series I) and thouroughly enjoyed not only the build, but the research as well. Unfortunately there isn't a lot out there (that I know of) for these early armored cars so you need to take what you get. Thankfully I still have the book I mentioned in both articles - Armored Cars of Russian Army, 1906-1917 - and will put it to good use when I'm ready to build both this and the Brengun 1/144 Russo-Balt Type C.
The Kit
The Northstar Models 1/144 Austin-Putilov consists of 13 pieces of resin for the armored car, and this particular release also includes a resin figure of Vladimir Lenin (whom, I hope, needs no introduction). The casting is flawless and the build will go quickly. Thankfully Northstar arranged the pour block for the main body part smartly: it's at the front, underside of the body, which not only results in excellent under-carriage detail, but also means a smaller spot that will need to be cleaned up once the pour block is removed. The Brengun Russo-Balt's body pour block is along the entire underside, which results in no under-carriage detail, a more difficult pour block removal, and much more to clean up. Sure, you can argue that if you mount the model on a base the underside won't be seen, but it would have been nice to have a smaller area of the pour block so removal won't be so difficult.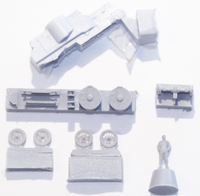 Once all Austin-Putilov parts are removed from their pour blocks construction will be quick. Addendum from first publication. The instructions due show how things go together, including a few parts needing to be made from wire (drive shaft, etc.). I plan on adding the axles, turrets and guns (with their "shields") prior to painting, but leave the wheels off until after painting. That way they won't be in the way and paint coverage will be complete.
Conclusion
This is an excellently molded 1/144 model of the Austin-Putilov. My plan is to place both this and the Brengun Russo-Balt side-by-side, with Lenin standing in the middle. I hope to start this idea someday, hopefully soon.
Many thanks are sent to Northstar Models for the car to review.