Internet Modeler : First Look : Armor
RSS News Feed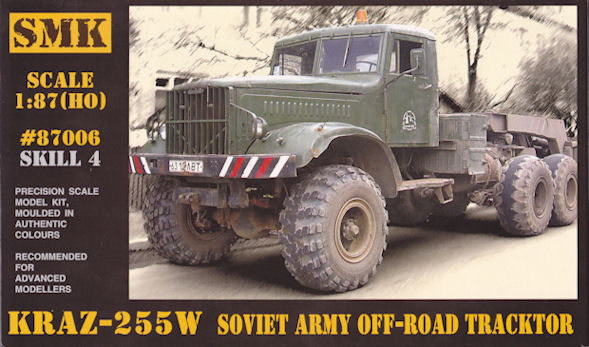 SMK's 1/87 Soviet KraZ-255W Heavy Tractor
This all-wheel drive heavy tractor was primarily used by the Soviet Army for towing semi-freight trailers but has been used in civilian service. The KraZ-255W was exported to other countries such as Viet Nam, Finland, Middle East countries and others. Production started in 1965 and continued until 1985 at the Kremenchuck Autotruck Factory (Ukraine). Thousand of trucks of this type have been produced over the years. Many are still in service today.
The Kit
Contents of the kit include a small four-page fully-illustrated instruction sheet, bagged loose styrene parts of various colors (mostly black), clear yellow sprue, black vinyl sprue of tires and one sheet of decals. Initial review of the parts looks good. Nicely molded with nominal flash and no sink marks. There was some flash on the clear window glass but nothing to fret about. The print quality of the thin multicolored decal sheet is very good. Unfortunately,the instruction sheet does not mention countries associated with these markings but you can see Finland, East Germany, Poland, Czechoslovakia and others. Included are some generic Soviet red stars with what appears to be other vehicle markings.
Upon reviewing the instruction sheet this appears to be a simple kit to assemble based on the number of parts. There is a parts location diagram if needed to identify any loose part. Assembly begins with the cab interior including the seats, steering wheel and air tanks. Detail here is very basic and could be improved. Next you will mate the cab interior with the cab (molded in olive drab) which incorporates wind shield / door glass and headlight housings. Speaking of headlights, I recommend drilling out the molded lights and replace them with MV lenses for further realism. Once the cab is done you will assemble the frame with suspension, drive train, exhaust system, gas tanks, battery box, wheel hubs and tires. As small as these parts are the detail is as good as can be expected. The hollow black vinyl tires have very nice tread detail. Final assembly mates the cab, spare tire and frame together. You are done!
Once your assembly is complete the instruction sheet calls for a Humbrol paint offering olive green as the main color. Use the color photo on the
box art to assist in painting your finished model.
Conclusion
I have never built a kit in 1/87 scale but I look forward to doing a build review of this kit soon. For such a small scale this kit is nicely detail which caught me by surprise. I highly recommend this kit. I would like to thank Scale Model Kits for the review kit.
Here are some other 1/87 scale Soviet truck kit offerings from SMK:
87005 KrAZ-255B1 – Soviet heavy army off-road truck
87004 KrAZ-256 – Soviet dump truck
87003 KrAZ-257 – Soviet cargo truck
87002 KrAZ-258 – Soviet special tractor
87001 KrAZ-258Z – Special ballast truck