Internet Modeler : First Look : Armor
RSS News Feed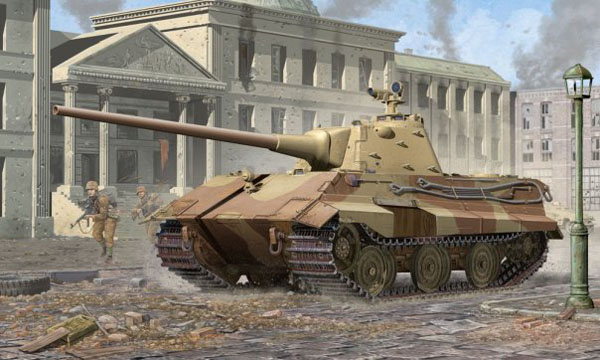 Trumpeter's 1/35 German E-50 [50-75 tons]/StandardPanzer
Background
Early in 1943, the Heereswaffenamt (Army Weapons Department) of the German Army accepted a program conceived by Dipl Ing Heinrich Ernst Kniekamp, Chief Engineer of Waffenpruefamt 6, called the (Entwicklung, or E) program.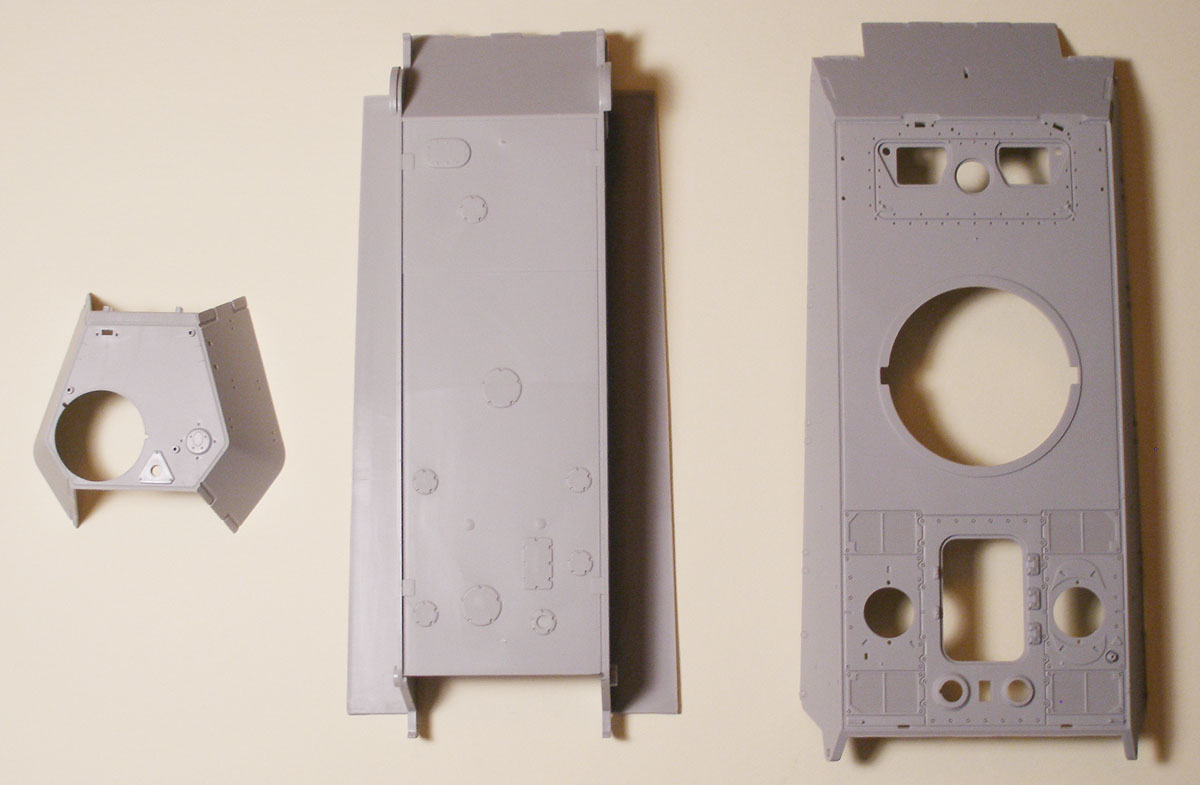 The E Program was designed to produce a series of six standardized armored vehicles and tanks for use by the Wehrmacht from 1945 onwards. The vehicles were to employ standardized components making their production, maintenance and service easier and cheaper. Even though the program was cut back in 1944 and ended with the end of the war, several of the key aspects of the E-Series were used later on in the French AMX family of armored vehicles.
The E-Series, which was in various stages ranging from blueprints to prototypes when the war ended, has been the subject of several recent releases by Trumpeter. Following the E-10 JagdPanzer, Trumpeter has released both the E-50 (the Panther replacement) and the E-75 (the King Tiger replacement). This in-box review of the E-50 will soon be followed by a full build article of this kit.
The Kit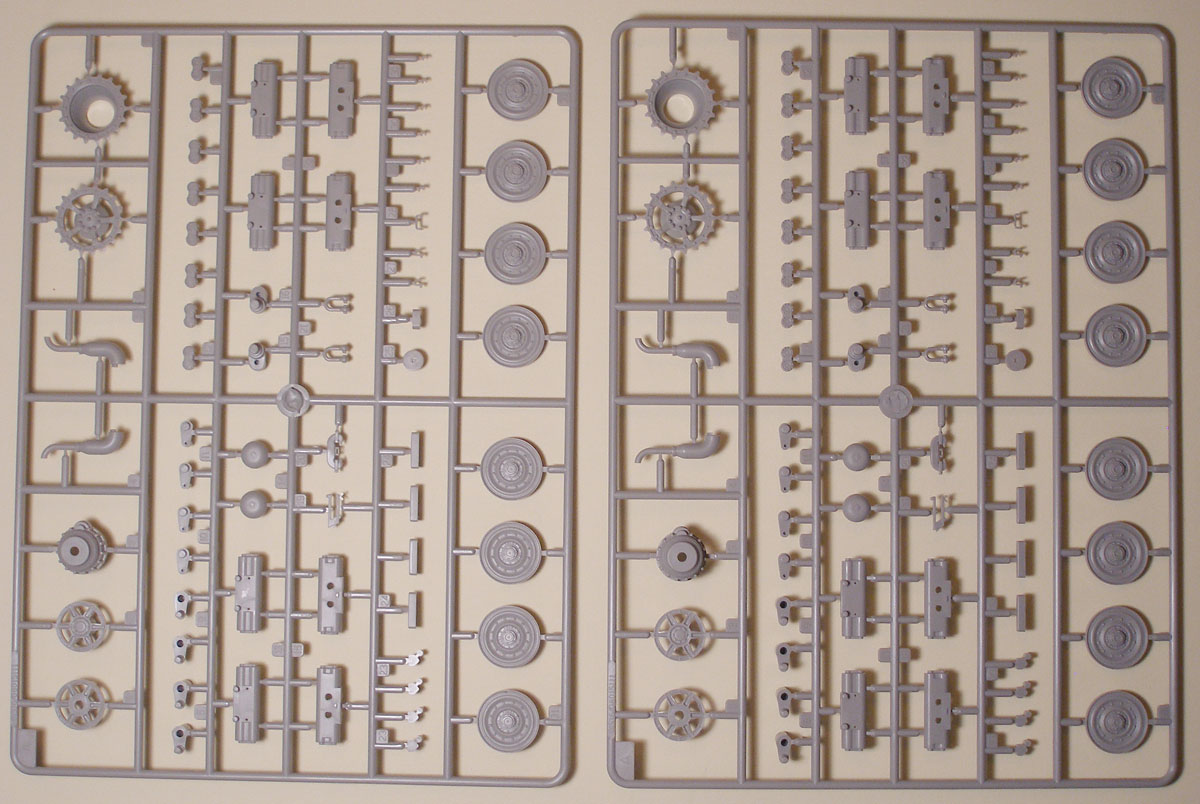 The Trumpeter E-50, as kitted, can best be described as a King Tiger with a Panther turret sitting on about 1/3 the number of bogies. Oh yes - there's nifty infra-red lighting and sights system thrown in for good measure.
The kit comes in Trumpeter-standard soft, light grey plastic on five flash-free grey sprues, 1 clear sprue, two hull halves, and a single-piece turret. The detail is thin, very crisp and well molded. Clean up is a breeze - this plastic is very soft and sprue-attachment points can be removed with just a swipe or two with a sanding stick. There are no areas that show obvious mold lines. A small fret of photo-etch provides engine deck screens and optional pioneer tool clasps. A run of twisted wire for use as tow cables is also provided. The two hull halves and the turret are packaged separately to protect them from damage.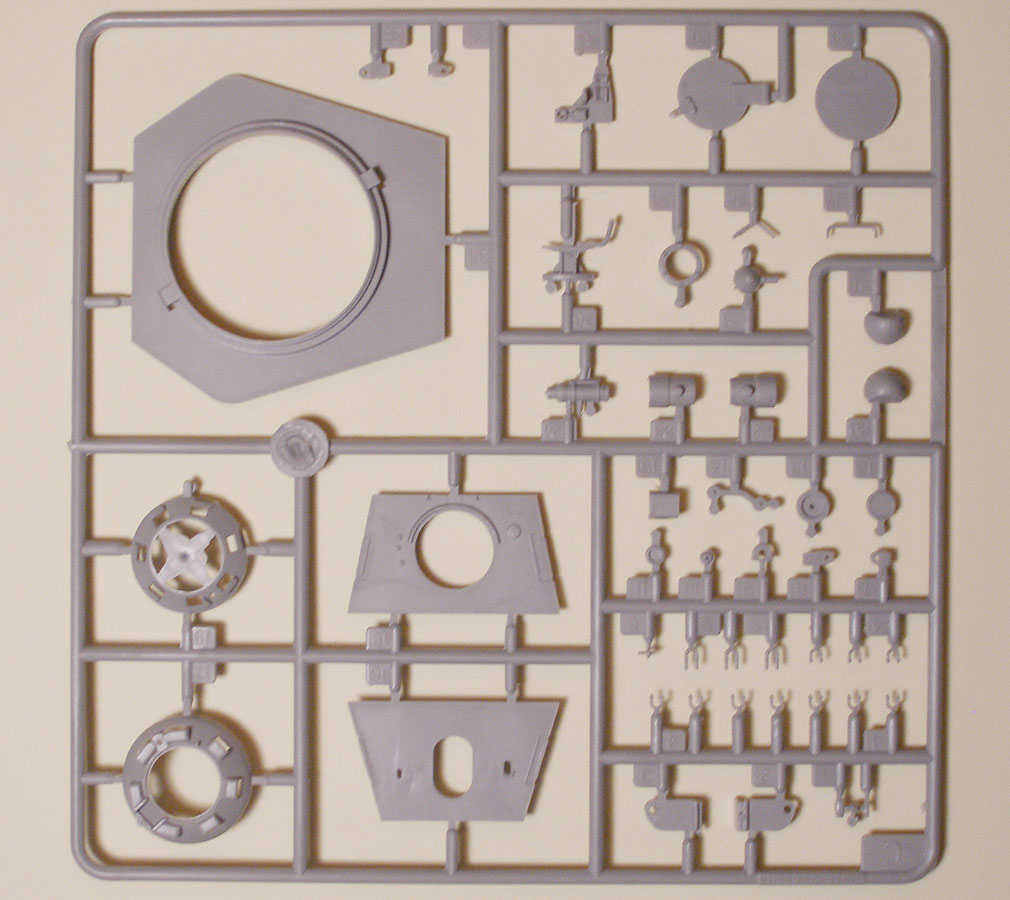 The 12 page instruction sheet is clear and complete, separating assembly into 17 steps. A color five-view is provided for painting only (since the kit does not come with any decals!). The color scheme suggested is a German Red-Brown camouflage pattern over factory DunkleGelb base.
With only twelve bogies, the chassis assembly will be a welcome treat! There are three axles per side, two wheels per axle.
Options for two different barrels are provided. Unfortunately, neither barrel is slide-molded, so a centerline seam will have to be cleaned up whichever way you go.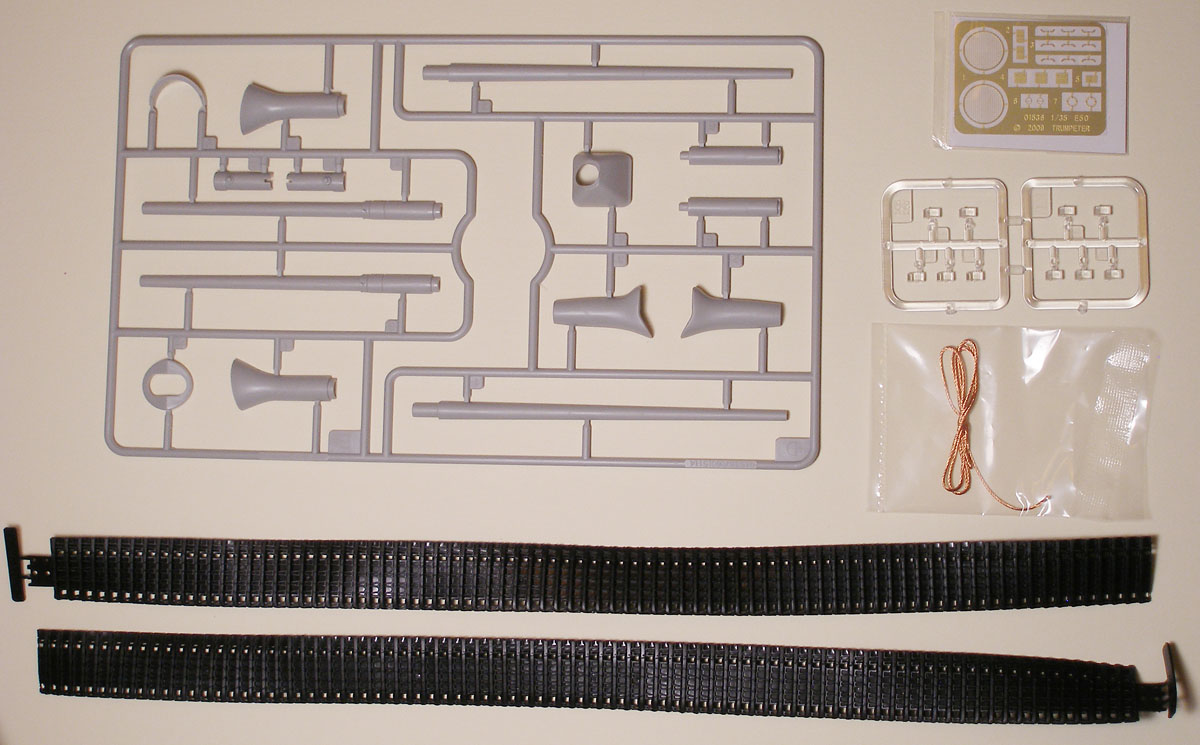 The two vinyl tracks seem to me to be very thick - heavier than what I would find in a Dragon kit, for example. There is excellent detail on both sides of the track and it seems to want to generally stay put when bent. I am curious as to how these will react to adhesive and paint. The instructions clearly state that the tracks can be glued using 'plastic cement' and painted using 'plastic paints'. The color go-by for painting has call-outs for Gunze Mr. Color (Lacquer), Model Master and Humbrol (Enamels), and Gunze Aqueous Hobby Color, Vallejo and Tamiya (Acrylics).
There is only a single set of pioneer tools. In order to make use of the optional PE clasps provided in the kit, you must first remove the molded-on counterparts - which are well done and would seem to perfectly suffice.
Conclusion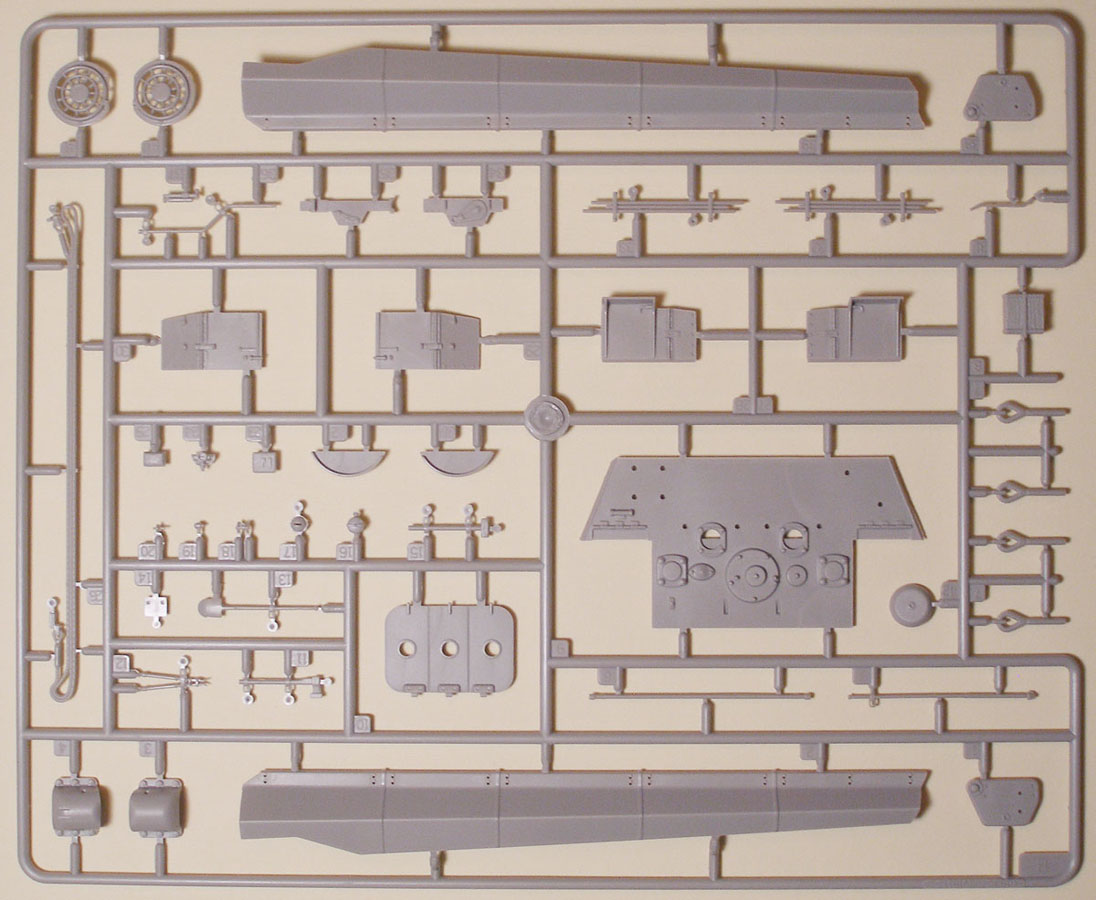 Looking at this kit I cannot help but feel that Trumpeter has taken the same approach that the German Heereswaffenamt took - to produce a vehicle (in this case a model kit) of a heavy combat vehicle with only half the complexity. The twelve lonely bogies, lack of decals and lack of other assorted bumps and protuberances found on nearly every other German armored vehicle (with the possible exception of the late war Hetzer) make this tank a little underwhelming. But the lines look accurate against the drawings I could find on the Internet and the engineering is excellent. With a good finish the kit should build up into an impressive facsimile of, well, a tank that never existed!
I recommend this kit to anyone who likes to build and finish the big German cats - with this kit you get to combine both a King Tiger AND a Panther - our favorites! I would like to thank Stevens International for providing this kit for review, and to Internet Modeler for giving me the opportunity to build this kit - stay tuned for the full-build article to follow.