Internet Modeler : First Look : Armor
RSS News Feed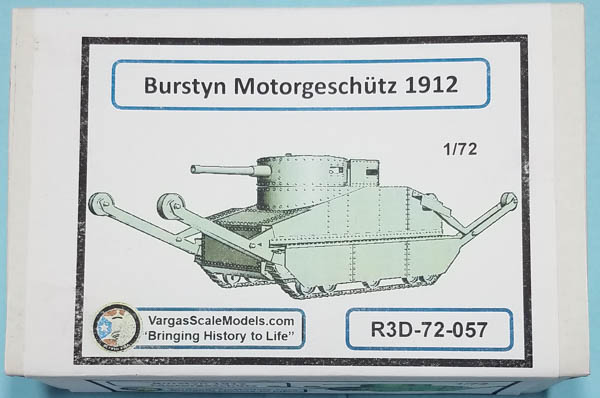 Vargas Scale Models 1/72 Burstyn Motorgeschütz 1912
Introduction
The Burstyn Motorgeschütz 1912 was a design for a Kampfwagen made by Günther Burstyn. He wanted to patent the entire design of the vehicle, but instead was only allowed to patent the obstacle crossing device.
If there was enough interest in this back when Burstyn proposed it, tank design might be further ahead. But as it was, there wasn't enough interest at that time to move forward with it. The best history of the Burstyn Motorgeschütz can be found at this link.
The Kit
There aren't a lot of parts to the Vargas Scale Models 1/72 Burstyn Motorgeschütz 1912, four in total. Most of the vehicle is in one piece, the only separate pieces are the turret and two types of guns that can be added to it: one that was shown on the patent, the other shown on the full size replica made by the Heeresgeschichtliches Museum (HGM) in 2011.
Decide which gun you want, glue it to the turret then prime and paint the main body and the turret assembly. Once painted, glue the turret to the body and now you have a complete Burstyn Motorgeschütz in 1/72.
Conclusion
It definitely will not take a lot of time to finish this model. It's perfect for wanting to complete something in a week and/or bust out of AAMS. In either event, it's a curiousity that will spark conversation at the modeling table.