Internet Modeler : First Look : Armor
RSS News Feed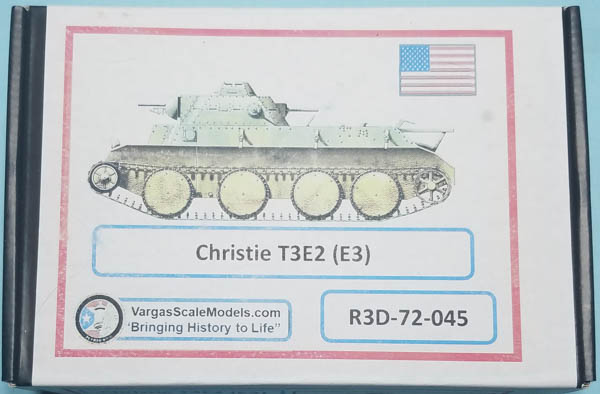 Vargas Scale Models 1/72 Christie T3E2 (E3) Tank
Introduction
It's difficult getting a clear picture of the Christie T3E2. It was developed by Christie but in the end was produced by American LaFrance, thanks to the way military contracts were drawn up during that time frame. There were five produced by LaFrance with subtle changes versus the prototype Christie T3E2, and it appears this kit is modeled after the LaFrance T3E2s.
A more comprehensive history can be found on WarSpot.net.
The Kit
The Vargas Scale Models 1/72 Christie T3E2 (E3) Tank consists of 14 3D printed parts: the one-piece, main body; the turret; two main guns, depending on the type (E2 versus E3); six machine guns; two fenders; and the two, one-piece wheels and tracks.
Three areas that will take up most of your modeling time include removing the interior "supports" from the tracks, cleaning the parts and painting. Once the supports are removed and parts are cleaned, it comes down to applying a primer coat with final painting.
Thankfully I can't see many - if at all - "striations" (or "print lines") in the print so there isn't much of the surface that needs to be prepped. That means contruction should go quickly.
Unfortunately the support on the rear of the tank, over the engine vents, is warped. I'm not sure if heating this small part will work, or if it will need to be replaced. Time will tell.
Conclusion
It definitely will not take a lot of time to finish this model. Seeing inter-war (between the wars, or 'tweener) tanks is excellent and Vargas Scale Models definitely fills that bill with a lot of their releases.