Internet Modeler : First Look : Armor
RSS News Feed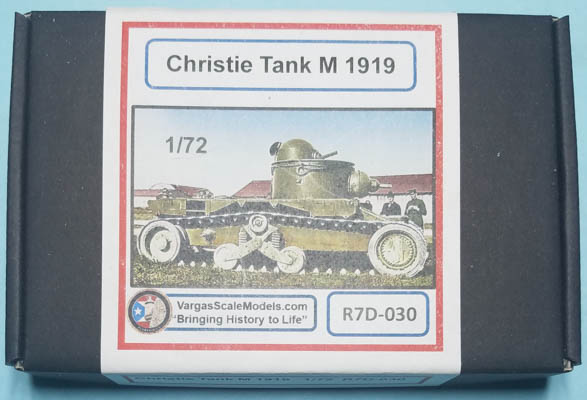 Vargas Scale Models 1/72 Christie Tank M 1919
Introduction
The Christie Tank M 1919 was a prototype to help refine what was truly innovative, the Christie's suspension system known as the "Convertible Suspension". It allowed the tank to be driven on roads without the tracks, or over land with the tracks. Unfortunately the M 1919 itself wasn't a good design so never made it past the prototype stage. He halted testing on the M 1919 so he could go back and refine the design, leading to the M 1921.
A more comprehensive history can be found on Military Factory.
The Kit
The Vargas Scale Models 1/72 Christie Tank M 1919 consists of nine 3D printed parts: the one-piece, main body; the main turret; the smaller, top cupola; one gun each for those; two fenders; and the two, one-piece wheels and tracks.
Three areas that will take up most of your modeling time include removing the interior "supports" from the tracks, cleaning the parts and painting. Once the supports are removed and parts are cleaned, it comes down to applying a primer coat with final painting.
Thankfully I can't see many - if at all - "striations" (or "print lines") in the print so there isn't much of the surface that needs to be prepped. That means contruction should go quickly.
Conclusion
It definitely will not take a lot of time to finish this model. It's nice to have something different in 1/72 for a change and this tank definitely fits that aspect.