Internet Modeler : First Look : Automotive
RSS News Feed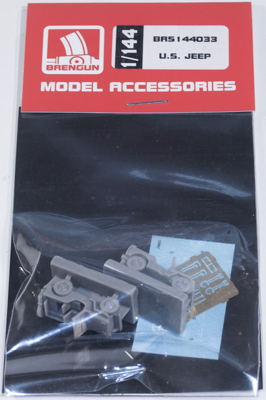 Brengun 1/144 US Jeep
Ever the helpful manufacturer for those whom want to create dioramas, or have unique ways to display your models, Brengun always releases items that will help set any model off from the rest of the crowd. This time they have released a pair of US Jeeps in 1/144.
Each Jeep is a single piece of resin that will need to be carefully removed from its pour block. Once that's accomplished and the vehicle is cleaned up then you can attach the other items that come with the set. Brengun supplies a photoetch fret that contains a shovel, axe and steering wheel for the Jeeps (there are actually more parts on the fret, but the fret is labeled "1/144 Cars" so appears to be a set added to other model car sets).
However, there's one item missing I really think Brengun could have easily supplied and didn't. The windscreen is a solid resin piece and given how Brengun is adept at photoetch this easily could have been supplied. Sure, still cater to the crowd that just wants to quickly finish a jeep and leave the solid resin windscreen, but add nother piece of photoetch for those of us that want windows that can actually be seen through.
So I'm deciding how to proceed with mine. Do I try to drill out the windows from the molded in-situ windscreen? Or do I cut that whole piece off and create something else? The advantage to doing the latter is being able to get the windscreen down to a scale-thickness. The molded-in-place windscreen is a little thick for the scale. Plus creating a new piece means less chance of breakage trying to remove the resin "windows". But now, how? How do I proceed? Definitely something to think about for the future.
Brengun also supplies a decal sheet with US "stars" and various recognition markings for the Jeeps. These look to be in register and are nicely printed.
Even with my complaint about the solid windscreen this is an excellent release. Plus there are two Jeeps to a package so you can double your fun.
Many thanks sent to Brengun for the review set.