Internet Modeler : First Look : Automotive
RSS News Feed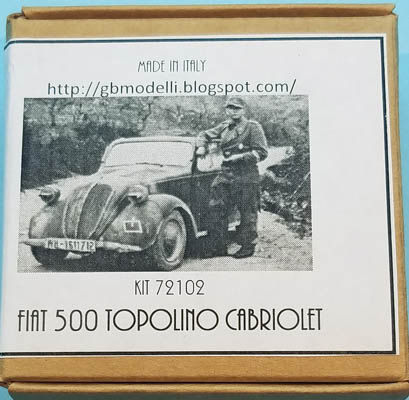 GB Modelli 1/72 Fiat 500 Topolino Transformable Car (Cabriolet)
Overview
From Wikpedia: The Fiat 500, commonly known as "Topolino", is an Italian city car produced and manufactured by Fiat from 1936 to 1955. Not only was it used in the civilian sector, but it was also put to use by the armies of World War II.
The Kit
The GB Modelli 1/72 Fiat 500 consists of 17 pieces of tan resin parts and nothing else.
Construction will go relatively quickly. The steering wheel and its column is attached to the chassis, along with the gear shift. Not shown in the instructions is the attachment of the separate seats, which should be attached now as well (and hope the body goes over them). While the instruction step shows gluing the wheels to the chassis now, I would wait until after painting.
The other instruction step has you add the headlights, fold-down top, spare wheel and license plate holder to the main body. Not shown is adding the right door to the body, but that too should be accomplished now; open or closed is up to you. Then the body can be glued to the chassis.
There is a rudimentary dashboard molded to the main body, and rudimentery pedals molded to the chassis. You might want to replace these with better defined items. The kit comes with the right door able to be posed open, and out-of-the box you can only build the model with the top open.
GB Modelli does not include any decals so if you want to add a license plate to the car, you'll need to source that yourself. In addition there are no clear parts so windows will have to be scratched as well.
Conclusion
This is a very nice rendition of the Fiat 500 Topolino. Construction should be relatively quick and it's up to you to decide how you want to finish it: civilian or military. Note that GB Modelli has excellent images of a Topolino on their Topolino kit page.
I definitely thank GB Modelli for sending this to review.