Internet Modeler : First Look : Automotive
RSS News Feed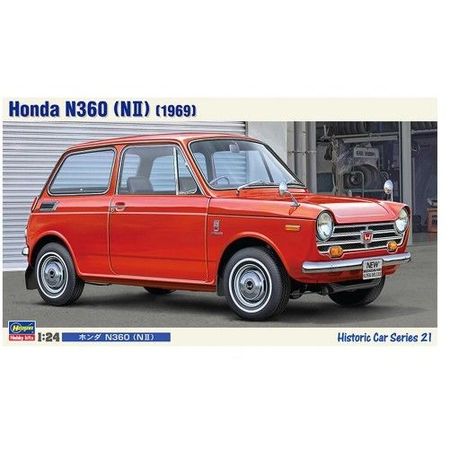 Hasegawa 1/24 Honda N360 (NII) (1969)
Overview
In roughly twenty years the Honda Motor Company rose from being a small machine shop to the world's largest motorcycle manufacturer. Despite such amazing success, founder Soichiro Honda never rested on his laurels and always sought to further expand his company's offerings. This expansion began in the early 1960's with the introduction of a 'trucklet' followed by several small, jewel-like sports cars. Although modestly successful and highly prized today, those 2-seaters were never more than niche vehicles. A more mass-market offering was needed to make a meaningful impact. That occurred in October of 1966 with the introduction of Honda's first passenger 'car', the N360.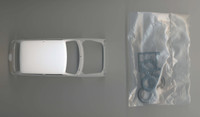 The N360 was a small, front-engine, front-wheel drive, four-passenger automobile manufactured by Honda between 1967 and 1970. It was a major sales success in Japan and the basis of the first Honda automobile to be officially sold in the United States, the N600 of 1970. The N360 featured an air-cooled, 354cc two-cylinder unit derived from the engine used in Honda's CB 450 motorcycle. Both the displacement and output were reduced to comply with Japan's strict Kei class vehicle regulations. Compared to larger vehicles, Kei class cars enjoy benefits like lower registration, road tax and insurance costs as long as they comply with limitations on displacement as well as vehicle length, width and height. In factory stock form the N360 had 31 SAE horsepower and a top speed of ~75 mph.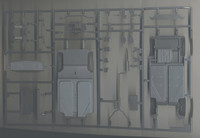 The Kit
The N360 has never been kitted before in 1:24th scale. All the 138 parts are cleanly molded on six sprues; four in grey and two in white. The body is molded in white and separately bagged. The box also contains a fairly large, separately bagged sprue of chrome parts, a separately bagged sprue of clear parts, a nice decal sheet and a bagged set of rubber-like tires and wheel caps. There is also a separate sheet of dry transfer 'whitewalls' for the tires.
The kit represents a RHD Japanese market vehicle and a left hand drive dash is not included. The body has a separate hood but the engine is only a 'front' (literally) with no other detail for the battery, intake system or carburetor. The N360's spare tire was also mounted under the hood but this is not represented in the kit. In spite of those omissions, the builder has the option of making a N360 "Super Deluxe" or a N360 "S" and there are two separate instrument clusters, steering wheels and types of gearshift included.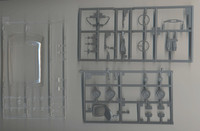 The suspension and exhaust components are molded separate from the chassis, which makes the detailing of these parts far easier. All the parts have finely engraved detail and the engine front and gearbox case have realistically molded cooling fin detail that would respond well to a dark wash to give added depth. Everything on the sprues looks good and the only areas where there are potentially visible sink marks are the inside of the engine subframe, the passenger floor and the luggage floor.
Decals and Instructions
The instructions provided are comprehensive with good illustrations showing part placement and location. There are several fiddly areas such as how the exhaust pipes fit between the inner fenders and the subframe so check the illustrations carefully prior to using adhesive is a good idea. The painting instructions are comprehensive and have callouts given in the Gunze Mr. Color numbering system. If you do not use or cannot get these paints where you live, a good reference source to convert Mr. Color callouts to those of other paint manufacturers you can go to:
https://www.ipmsstockholm.org/colorcharts/stuff_eng_colorcharts_gunze.htm
As this is a factory stock kit, a notable omission is the lack of factory Honda exterior paint shade callouts other than the "Light Scarlet" red and "Ceramic" white shown on the box art and in the instructions. The decal sheet is quite comprehensive with numerous external emblems, windshield stencils and other detail markings, plus two forms of instrument panel decals for each of the panels that are included in the kit. Everything is colorful, nicely printed and in perfect registry on my sample.
Conclusion
It is obvious a lot of care went into the design and engineering of this kit and similar care is required when building it, to do it justice. While it is not aimed towards a novice modeler, this kit is a welcome effort from Hasegawa filling a previously empty void. It is highly recommended and would be a nice counterpoint to other small classic vehicles like the original Austin/Morris Mini, Fiat 500 and BMW Isetta. My sincere thanks to Hasegawa USA for the review model.