Internet Modeler : First Look : Automotive
RSS News Feed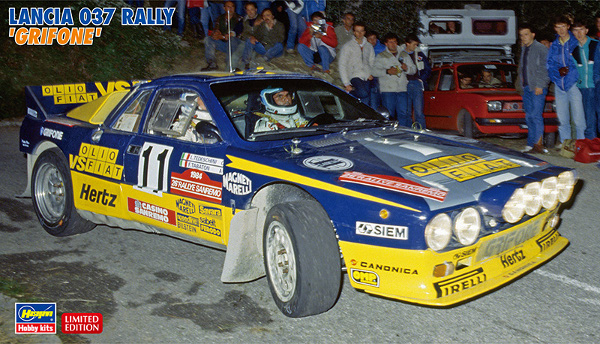 Hasegawa 1/24 Lancia 037 Rally "Grifone"
The Car
Lancia (a Fiat subsidiary) developed the 037 racer in response to a 1982 regulation change. WRC (World Rally Championship) changed the FISA technical regulations and replaced homologation groups 1 to 5 with new alphabetic groups A, B and N. Many manufacturers switched to four-wheel drive in response to the changed regulations but Lancia, with the assistance of Abarth, chose a mid engine, rear wheel drive configuration based on Lancia's Pininfarina-bodied, mid engined Montecarlo production car. It got its name from Abarth's internal project code number 037. Lancia produced 200 road-going models to comply with Group B regulations, before the 037 started racing. It debuted at the 1982 Tour de Corse, but Lancia struggled throughout the season to match the pace of their 4WD opponents. Lancia turned the tables in 1983 and claimed the Makes Title.
The Kit
The kit consists of approximately 134 parts, 5 of which go unused. Most of the parts are on 7 sprues. One of these sprues is clear. There are 4 "rubber" tires, plus a piece of thin wire for an aerial and a thin plastic sheet for mudflaps. I thought at first that it was a semi-curbside kit, i.e. with just a lower engine and drivetrain, but you get a complete engine and transmission.
| | |
| --- | --- |
| | |
This is a very complex kit, and it consists of a number of highly detailed sub assemblies, each of which has numerous parts. The molding is up to Hasegawa's usual high standards. There is minor flash and some small sink marks, but with the exception of the inner radiator face they won't be visible on the finished model. The instrument panel uses decals for the individual dial faces and there are seat belt decals as well. These are very well printed, but they are too flat to be wholly convincing. I would either attach them to some Tamiya tape (trimmed to size) or use some aftermarket photo etched seat belts. Either option will drape more convincingly over the the seats.
| | |
| --- | --- |
| | |
The 2.0 liter, 4 cylinder supercharged engine is well executed. I was surprised to note that the engine block is composed of 4 flat panels rather than 2 halves. The Abarth script is quite legible on the twin camshaft covers. The engine represents an excellent basis for a super detailed project. Much of it will be visible through the rear window, providing an excellent opportunity to go to town with ignition wires, plumbing, hoses, etc. Make sure you have access to good photographic references! The intrepid modeler might want to open up the rear engine compartment, which is a separate task in itself, given that the rear hatch is not molded separately...
| | |
| --- | --- |
| | |
Both front and rear suspension units are nicely executed, but the solid coils over the shocks won't pass muster with an opened engine bay. The front wheels are turnable, provided that you pay close attention to the instructions. The wheels are well executed. They have a great combination of raised and recessed detail and they will look great under an oil wash and some careful dry brushing on the wheel nuts. The tires are slicks, which are correct for this car as illustrated on the box top.
The Hasegawa instructions are up to their usual standards and format. They are well illustrated, with a clear and logical build sequence. They include a parts map with color callouts for GSI Creos (Gunze) Aqueous Hobby Color and Mr. Color lacquer.
Cartograph printed the decal sheet. It is one of the best kit decal sheets that I have seen in some time. It is crisply printed, legible, in-register and it has vibrant colors. The sheet includes seat harnesses, instrument panel and some individual dial faces. It depicts the privateer Grifone team's blue and yellow Olio Fiat car, as driven by Fabrizio Tabaton, the son of the car owner. The Grifone team entered the 1984 Rallye Sanremo and finished a strong 4th place overall. It's a good looking car and an excellent modeling subject.
Conclusion
WRC racing is dynamic and very exciting to watch. The World Rally Championship has undergone numerous rules and technological changes, like all forms of auto racing, and I have enjoyed learning about the fascinating cars that have competed in WRC over the years. The Lancia 037 is an interesting car and I think this is a superb kit of it. It is accurate and highly detailed.
I absolutely recommend this kit, but only for experienced modelers. I'm reminded of the advice in the instructions accompanying certain Eastern Bloc kits: "the end result will be a reflection of the time you spend in the construction of this kit," or words to that effect. If you want a highly detailed Rally car model, this is an excellent place to start. Have excellent photographic references to hand, and by all means, take your time! I'd like to thank Hasegawa USA for the review sample.
References
1) https://www.juwra.com/rules_1982.html
2) https://en.wikipedia.org/wiki/Lancia_Montecarlo
3) https://en.wikipedia.org/wiki/Lancia_Rally_037#Engine