Internet Modeler : First Look : Automotive
RSS News Feed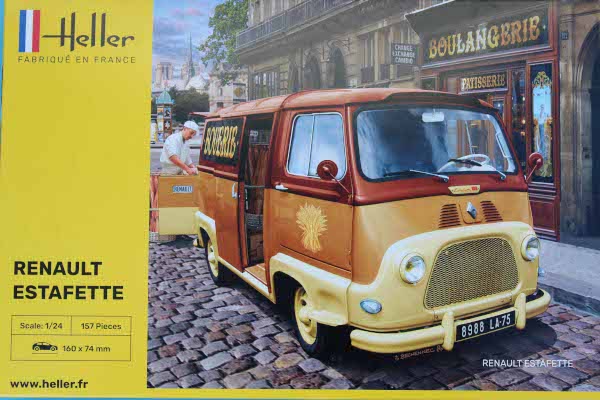 Heller 1/24 Renault Estafette
Overview
The Renault Estafette was introduced in 1959 as a direct competitor to the Citroen type H van. Renault management reluctantly agreed to the front engine, front wheel drive design, having previously established the rear engine, rear wheel drive conception as the corporate standard for all vehicles. The rear engine design would not allow for an enlarged load space or lower floor height thus the Estafette became the first front wheel drive vehicle marketed by Renault. The name was derived from the Italian word Staffetta, meaning Courier. Production of the Estafette ran from May 1959 thru June 1980 and over 500,000 were produced.
The Kit
The Estafette consists of 5 grey and 1 clear sprue, decals, and poly caps for the wheels. All parts are well molded and show almost no visible ejector pin marks. The clear sprue is quite large and includes the side panels for the windowed passenger version. All of the clear glass areas are molded integrally with the surrounding bodywork, as is the current style of Heller auto kits. This does result in some interesting masking, although there are masking patterns included. The kit instructions include the option of building either a 1964 or 1973 version. Also as noted above, there are all the necessary parts to build a windowed passenger van. The Heller Catalog indicates a Gendarmerie version (Kit # 80742).
Accuracy
Based on available published information, the kit appears to scale out perfectly in all dimensions. The critical aspect from my point of view is, "Does it look right?" The answer is a resounding yes. My only minor concern lies with the engine: is it the original 845 cc or the later 1108 cc engine? You can't really see the engine anyway, so it will do for both kit versions.
Conclusion
It's weird, it's wonderful, it's unquestionably French. The inclusion of two different years plus the passenger van parts leads me to want at least 4 versions in my collection. Therefore I shall embark on what I refer to as an assembly line project: not one model but three simultaneously. They will be the same, but different. The first a 1964 Delivery van, the second a 1964 Passenger van, and the third a 1973 fully opened up, as if on a showroom floor. One thing I need to get used to is Heller, a long-established French concern, is now owned by a German company. This gives us kits made in France with all the correspondence addresses in Germany.
Review kits once again provided by my overheated debit card from Skyway Model Shop.