Internet Modeler : First Look : Automotive
RSS News Feed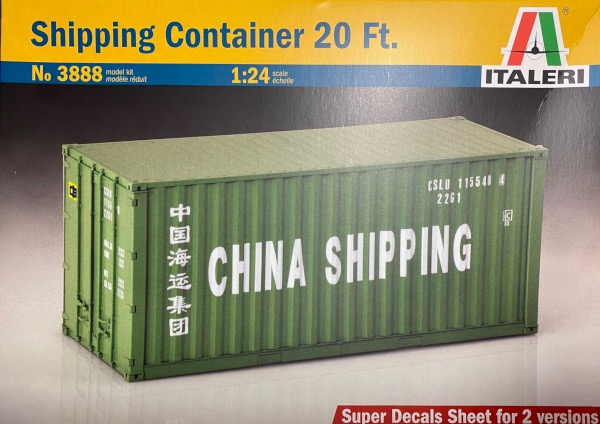 Italeri 1/24 20 Ft Container
The Container
Italeri has recreated one of the many shipping containers that are used to ship freight all over the world. If you live near a major city on either the east or west coasts you have likely seen one of these containers at the Port being towed behind a big rig truck or on a train car. So they are quite popular and can be seen everywhere. I have observed many of these converted into houses or small businesses. When I saw that Model Rectifier was selling these I had to get one. I think that one of these containers would look great in a diorama setting.
The Kit
When opening the box, the parts are substantial. We are so used to smaller parts on 1/24 model car kits that when you see the parts sprues they almost look too big. There are 2 big sprues for this kit and they are so big that Italeri used a method that I had not seen before. The 2 big sprues are twice the size of the box and while the plastic was still warm after the injection mold process, they folded the sprues in half. This allows them to fit in the box. So, the main stem had to be broken so that the sprues would separate and parts can be cut from them.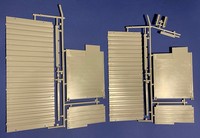 The kit is molded in gray plastic. I was surprised to see how thick the pieces are, which has the added benefit of not having any warping issues. The bottom of the container is two separate pieces that join together. The side panels and roof are all single pieces. The doors and handles, latches and hinges all have great detail. The corrugated look to the container is also well represented. The doors can be posed open or closed. The decal sheet is a big feature of this kit. Massive decals which represent 2 major shipping companies fill the sheet. The instructions are very basic but it almost makes sense, because a container is simply a big box, but they will be easy enough to follow for assembly.
Conclusion
I am looking forward to building this kit up. It has great detail and would look great in a diorama setting where you can let your imagination run wild. Italeri has an impressive line of semi-truck models, so this would look great being towed behind one of those. Or, you could really put your weathering skills to use on a kit like this, lots of opportunities to create a rusty, well-traveled container. Happy Modeling.