Internet Modeler : First Look : Automotive
RSS News Feed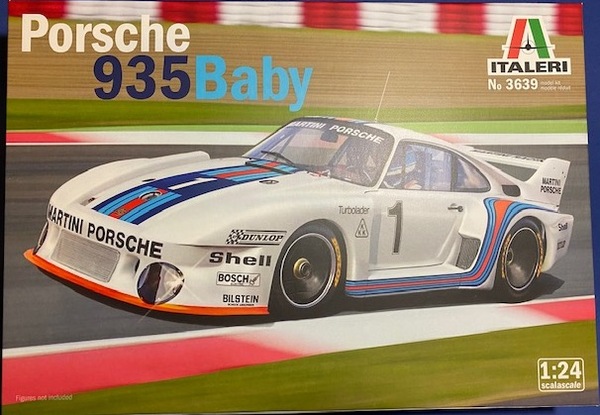 Italeri 1/24 Porsche 935 Baby
Intro
Porsche wanted to compete in the 1977 Deutsche Rennsport Meisterschaft (DRM) with the likes of Ford and BMW but couldn't because they didn't have a 2.0 liter engine. Porsche competed with their 935 in the larger Division 2 but not in the Division 1 Category. So Porsche put the 935 on a serious diet with a fiberglass reinforced plastic body and also swapped out cylinders in the air-cooled flat-six. The result was a turbocharged 1,425cc engine which was Porsche's smallest 6-cylinder engine ever. It was this tiny motor that gave the car the nickname "Baby". The 935 "Baby" debuted at the Norisring in early July 1977. The tight timeline of development showed as Porsche had to bow out early with an overheated engine. Porsche returned to the DRM at the 1977 German Grand Prix where it took the pole and won the race by 50 seconds, setting a lap record in the process. The car was retired at season's end and it now resides at the Porsche museum.
The Kit
Italeri has recreated the 935 Baby in amazing detail. The kit is designed as a curbside kit, meaning there is no engine detail. There are some engine components like the top of the engine that can be seen through the window, but no full motor or drive train When you open the box, you will find parts molded in both white and black; white for most of the body components and black for the 935's interior and underside.
A couple of features stand out with this kit, the first of which is the wheel and tire set. The car has racing slicks for tires, and they look good. But the size difference between the front and rear are substantial. Another prominent feature of this kit is the decals. The Martini Porsche racing decals are reproduced in great detail and there will be a lot of them to place on the car. The body of the car looks great. The plastic feels pretty thick in comparison to other model kits, and I would bet that there's no warpage because of the thicker plastic. There are a few mold lines around the front of the car that will need some clean up but overall, a great body to build up with.
Conclusion
I am excited to build this one up. Italeri has great quality in their kits and I am looking forward to building up this Porsche icon. The decals, which are unique and very recognizable in the racing world, look to match the real car's livery and will be very vibrant on the final display. It will look great on the shelf and stand out if you add it to your collection. Best of luck and Happy Modeling!