Internet Modeler : First Look : Automotive
RSS News Feed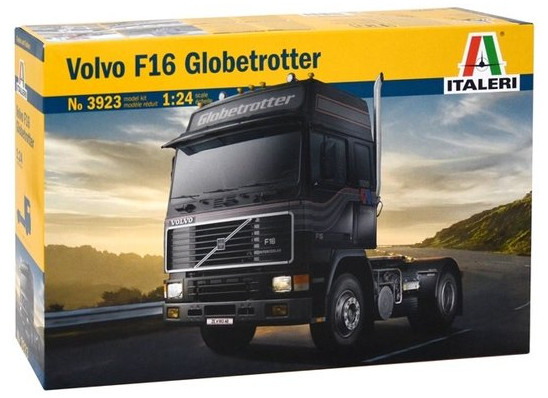 Italeri 1/24 Volvo F16 Globetrotter
Volvo introduced the F-16 series of trucks and tractors in 1988, 10 years after the introduction of the now legendary F-12. The F-16 was powered by a 465 hp, turbocharged and inter cooled 6 cylinder diesel engine.
The Volvo F-16, particularly in the luxurious and spacious high roof, twin berth Globetrotter version, was popular with fleets and owner-operators alike, and it was a striking presence on the highways of Europe and the Middle East.
Italeri's F-16 kit comes in a large, sturdy box with nice artwork of a single rear axle F-16 tractor. This is a big, complex kit. It consists of 184 parts on 7 sprues, molded in black, silver, light gray and clear plastic, plus 7 rubber radial tires.
The cab exterior, chassis, engine, and suspension parts are molded in black. The silver parts include the wheels and exhaust stack, and most of the interior parts are molded in light gray The quality of the molding is very good. The parts are mostly free of flash and sink marks. The sprue attachment points are well positioned, so it will be easy to remove the parts from the sprues without damage.
The Volvo 6 cylinder turbocharged and inter cooled diesel engine is very well detailed. You can build the model with the cab tilted so I would recommend that you look on the Internet for pictures of the engine and chassis so that you can add the appropriate "plumbing" (hoses, wiring harnesses, etc.).
The front and rear suspension units are complex and well detailed. I am slightly surprised that the rear suspension is a standard leaf spring set up rather than air suspension. The front suspension is also leaf springs and the front axle steers if carefully assembled.
The interior is also convincingly busy. You might consider opening the doors, which wouldn't be that difficult to accomplish with a hot knife, or installing a couple of LED lights in the roof area so your hard work in this area will be visible.
I am critical of Italeri's decision to mold the cab's exterior parts in black. It IS true that if you want a black cab you could simply spray several coats of clear gloss on the assembled cab and then apply the decals. But if you want a light color, such as yellow, red or light blue, you will need to apply a quality white primer, such as GSI Creos (Gunze) Mr. Base White 1000, in multiple thin coats.
The decal sheet is superb. The colors are bright and the printing is clear, legible and in register. It includes an instrument panel decal, a set of stripes for the cab, plus license plates for many European countries including Austria, Denmark, Finland, France, Great Britain, Sweden and Switzerland.
Conclusion
I am impressed with Italeri's Volvo F-16 Globetrotter. It is accurate and well detailed. You can build it right out of the box and you will be very satisfied with the results. If you want to add greater detail there are many aftermarket accessories for model truck kits (photo-etch detail parts, resin wheels, etc.) available. Add one of Italeri's 1/24th scale semi-trailers and you will have an exciting replica of one of Volvo's most popular heavy trucks. I recommend this kit and I would like to thank Model Rectifier Corporation for the review sample.