Internet Modeler : First Look : Automotive
RSS News Feed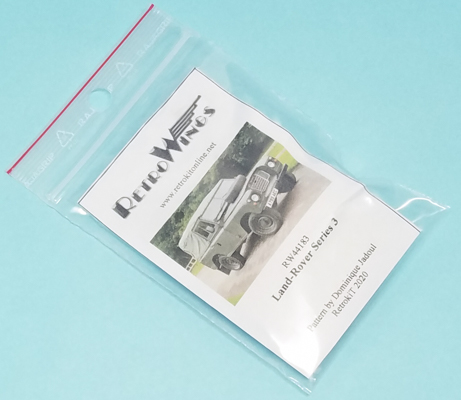 RetroWings 1/144 Land-Rover Series 3
Introduction
Taken from Wikipedia:
"The Land Rover series I, II, and III (commonly referred to as series Land Rovers, to distinguish them from later models), or simply the Land-Rover, are compact British off-road vehicles, produced by the Rover Company since 1948, and later by British Leyland. Though unapologetically inspired by the World War II jeep, the Land Rover immediately distinguished itself from all other cars. From launch, it was the first mass-produced civilian four-wheel drive car with doors on it, and an available hard roof. Contrary to conventional car and truck chassis, it used a sturdier fully box-welded frame. Furthermore, due to post-war steel shortage, and aluminium surplus, Land Rovers received non-rusting aluminium alloy bodies, favouring their longevity. In 1992, Land Rover claimed that 70% of all the vehicles they had built were still in use.
"Most series models feature leaf-spring suspension with selectable two or four-wheel drive (4WD), however series I's produced between 1948 and mid-1951 had constant 4WD via a freewheel mechanism, and the Stage 1 V8 version of the series III featured permanent 4WD. All three models could be started with a front hand crank and had the option of front & rear power takeoffs for accessories.
"After adding a long wheelbase model in 1954, Land Rover also offered the world's first four / five door, 4WD off-road station wagon in 1956. Series Land Rovers and Defenders continually excelled in space utilization, offering (optional) three abreast seating in the seating rows with doors, and troop seating in the rear, resulting in up to seven seats in the SWB, and up to ten seats in the LWB models, exceeding the capacity of most minivans, when comparing vehicles of the same length."
The Kit
The RetroWings 1/144 Land-Rover Series 3 consists of 16 pieces of gray resin. There are no decals included so if there are any type of markings you want, you'll have to source them yourself.
RetroWings does not include instructions instead relying on the modeler to do their own research to build the model. The most time-consuming part of this kit will be removing the main body from its pour block but once everything has been removed from the pour blocks, construction will be quick.
You'll need to glue the chassis to the main body and then whatever pieces to the interior (the kit comes with - I think - at least the steering wheel and maybe a gear shift) and then you'll need to decide which top to add; hard or soft. There is nothing included to represent the windows so the choice is yours: cut them from clear acetate or fill with a product like Kristal Kleer.
There are five wheels included, the extra a spare. Unfortunately my wheels are off-center from the tires, and there's a gap so I'll have to fill that in with probably a product like Perfect Plastic Putty, and somehow line up the wheels to the chassis so it isn't obvious about the off-centeredness.
Since I haven't done any research into the Land-Rover yet, I'm unsure of what all the parts are and where they go. Your research will also lead you to what colors to paint the car since as there are no instructions, there are no color call-outs.
Conclusion
This is a really nice Land-Rover in 1/144, but be aware you're left to your own devices to finish the kit. The casting is very nicely done, though, so once finished it will definitely look great either on your shelves, or in some sort of display or diorama.
I definitely thank RetrokiT for sending this Land-Rover to review.