Internet Modeler : First Look : Automotive
RSS News Feed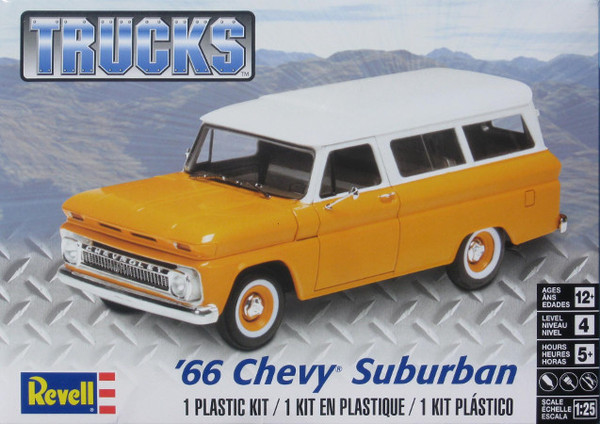 Revell 1/25 '66 Chevy Suburban
Overview
The word Ubiquitous is an apt descriptor of the Chevrolet Suburban. The Suburban was the go-to vehicle for Fire & Police Departments, Government Agencies, the Military, and others. It has been a part of the Chevrolet model line since 1939, making it the oldest continuous marque in automotive history. It's a true all-purpose vehicle that none of the other Manufacturers have successfully challenged in almost 80 years of trying. Whether in ½ ton, ¾ ton or 1 ton configuration, the Suburban has served families, businesses, and government, carving out a unique spot in automotive history.
The Kit
Revell recently released this new state-of-the art kit. The presence of several individually molded parts, such as the rear doors and roof, indicate possible variants to come in the future. You are greeted by a very tightly packed collection of sprues, upon opening the box. It contains 11 white sprues, and one each clear, clear red, and chrome, 5 tires and a body. The decal sheet is quite comprehensive and it includes 2 commercial business markings, seat upholstery patterns, numerous labels for various components, plus 1966 Arizona commercial and 1973 Arizona Historic vehicle plates.
Accuracy
I was lucky to find a 1966 Suburban sales brochure while perusing an automotive literature vendor's booth at The Good Guy's. Needless to say, I added it to my already growing pile. When I compared the brochure information in the brochure and pictures I had on file with the kit, I could find no significant errors or omissions.
Revell includes a beautiful small block V-8 and a 3 speed column-mount manual transmission. There is good frame and suspension detail, and an accurate single exhaust. The parts count is good, with few compromises and no fiddly bits to increase the count, without really adding to the level of detail. The only annoying ejector pin marks are on the underside of the hood and roof, all of the others are well hidden.
Conclusion
I think this is a long overdue model of a significant Chevrolet vehicle. I have done some quick test fits and I foresee a few minor fit issues. Overall, the kit is well molded and detailed. The parts breakdown indicates possible future variants; I hope the tailgate style rear comes soon. The separate roof would allow for inclusion of the fiberglass high top roof popular with ambulance converters. High Top? Ambulance? Aftermarket folks, here is a practical simple conversion item! I have plans for several different builds, including police, fire, ambulance; I even found a hearse built on a 1966 Suburban.
I'd like to thanks Revell for producing at kit that my overheated debit card paid for 6 of (!) as soon as it hit the shelves.