Internet Modeler : First Look : Aviation
RSS News Feed
AModel 1/72 Yak-38
History
Development of VTOL aircraft in the Soviet Union took the same route as in the Great Britain. First, in 1959 "Zorkij" turbolet was flown. Than Yakovlev bureau built Yak-36— an experimental plane which served the same purposes as British Short SC-1. Yak-36 made its maiden flight on 27.07.1964 and was shown to public on an airshow in Domodedovo in 1967.
A.Yakovlev proposed to build a small series (10-15 machines) for field (read— naval) tests, but Yak-36's scanty carrying capacity made its military use impossible. So, in 1967 a new project was begun, initially named Yak-36M
Yak-36M project was an attack plane, with two RD-36-35VF lifting engines and one R-27V-300 main engine (with two rotating nozzles). First Yak-36M prototype was finished 15.04.1970. Second prototype was first taken into the air 02.12.1970 by Valentin Mukhin.
Yak-36M was put into service in 1977 under designation Yak-38 (NATO gave the plane a codename "Forger"). But real navy use began much earlier. Yak-38s were based on "Kiev", "Minsk" and "Novorossijsk" cruisers, and later on "Admiral Kuznetsov" carrier. Planes were also extensively tested in various conditions. In 1980 two planes took part in operation "Romb" in Afghanistan. This had an aim of testing how it will behave in hot high-mountain climate.
Besides operation "Romb" Yak-38 never saw real action. Production totalled 231 machine, 37 of them were lost in various accidents (31 of them were non-fatal for pilots). Since 1991 Yak-38s are moved to reserve, and currently they are retired.
In late 80s Yakovlev bureau designed a successor to Yak-38— a revolutionary Yak-141. It was the first supersonic VTOL a/c in the world, with maximum speed of 1.8M. All characteristics (except range) were similar to those of MiG-29. But because of collapse of the Soviet Union the program was stopped. Due to the same reasons Yak-43, very similar to Lockheed-Martin X-35, also remained just a project.
The Kit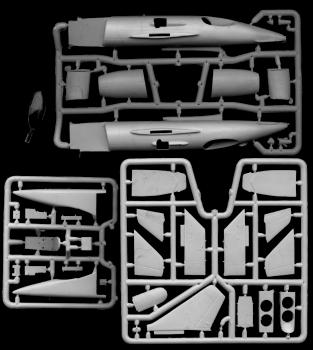 For years those who wanted an injection-molded Yak-38 model were limited to Hobbycraft and Revell kits. Unfortunately, while being relatively easy builds, both of them are inaccurate.
AModel produces short-run kits, and this is no exception. The box contains five off-white-colored sprues and an injected canopy. The surface of the parts is clean, but should better be polished. There is some flash, and sprue gates are thick (recipe is — careful cutting, filing, dry fitting, and lots of patience!). Panel lines are recessed, and are very thin. As to the canopy, a bath of Future can greatly improve it.
The fuselage is broken into two sprues, the second one carrying the nose with a cockpit. This enables AModel to make a two-seater trainer version, Yak-38U (it is advertised on the box side as kit #7258).
The intakes are located on the main fuselage sprue and consist of two parts each — the inner and outer ones. Strangely, big "1" and "2" are scribed on the inner parts.
The wing parts, tailplanes and fin are on another sprue, and these look very nice. This sprue also contains intake splitter plates (not sure if it is the right term), lifting engines' bay floor, roof and covers.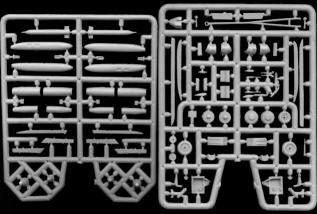 The armament occupies a separate sprue. Besides the pylons it includes (a pair of each) heavy unguided missiles S-24, UPK-23-250 gun pods, UB-16 and UB-32 missile pods. UPK-23-250 look quite usable, while other parts went out not so good (probably due to limitations of the short-run technology).
A dedicated sprue contains all the smaller details. This includes everything undercarriage-related — legs, wheels, wheel wells and wheel doors. Turbines and exhausts of lifting engines are very fine, with sharp edges of blades. Main engine's exhausts consist of two parts each and... well, they look like Yak-38 exhausts. The cockpit includes a floor, sides, primitive control panel and a "generic" seat (which has a passing resemblance to K-36). While the last sentence looks very critical, in fact the cockpit is OK — being a lazy man, I'll probably leave everything as is, simply adding a pilot figure.
The model can be built in either "flight" variant (main engine exhausts are horizontal, lifting engines' cover shut) or in a "deck/takeoff" one (main engine exhausts are turned downwards, the cover is open). Additionally, the wingtips are made separate, so the wings can be glued in a folded position (but there's no traces of the wingfold mechanism).
As to the kit accuracy: I've compared the parts to scale drawings in "Aviatsiya i Vremya", and they fit nicely. I wouldn't be surprised if the model was designed usingthose drawings. Instruction booklet is 8 A5 pages and is quite good. It contains a brief history, location of the parts, 10-step construction sequence and a painting guide.
Decals are for four aircraft:

"Yellow 70" in light grey over dark grey scheme, USSR Navy, 80s.
"Yellow 07" in a rather unusual "tiger" green-over-silver camouflage from cruiser "Leningrad", 1986. I was unable to find any mention of this scheme. However, some guy in a Russian scale modellers forum supposed that this was applied for a very short period of time— maybe just one cruise. This variant also includes fancy "fig" signs to be placed onto intakes (unfortunately, those aren't visible on the scan).
"White 55", Afghanistan, operation "Romb", 1980.
"Yellow 24". This variant isn't commented in the instructions, but this is definitely for an a/c in a most used scheme— yak-38 blue over yak-38 green. That's the scheme of the boxtop aircraft (interestingly, the boxtop number is 07, which is for another variant, according to the instructions...). The colors are separated exactly as in grey over grey case.
Conclusion
While this model isn't for beginners, it is the only way to go for those who wish to have an accurate Yak-38.
References
My special thanks to Anton Tsupka.