Internet Modeler : First Look : Aviation
RSS News Feed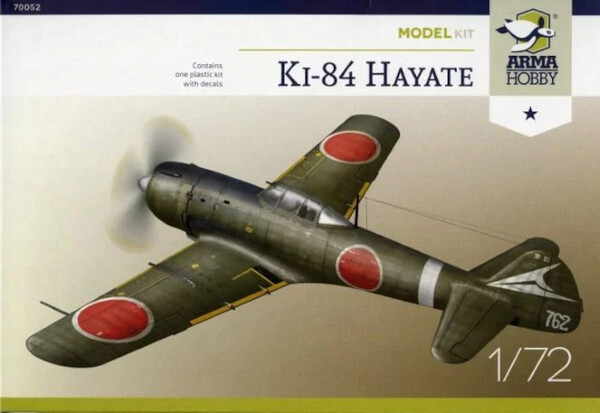 Arma Hobby 1/72 Nakajima Ki-84
The Plane
The Nakajima Ki-84 Hayate (Gale) was the finest Japanese fighter produced during World War II. It was heavily armed, with up to 5 cannon. The Ki-84 followed Nakajima's Ki-43 and Ki-44 (Shoki) into service and despite the deteriorating war situation, inferior fuel quality, etc., the Ki-84 gave a good account of itself in the hands of experienced pilots and was able to combat Allied fighters on more or less equal terms.
The Kit
Arma Hobby's Ki-84 kit comes in a sturdy end-opening box with a nice painting of a Hayate high in the sky over Japan. The kit consists of 71 injection molded parts on 3 sprues and a small decal sheet. The surface detail on the wings and fuselage consists of recessed panel lines and rivets where appropriate and this detail is superb. All parts are extremely well molded with no flash and very small sprue attachment points so they will be easy to remove from the sprues. The wheel wells are deep and convincingly busy.
| | |
| --- | --- |
| | |
The cockpit is a complex, multi-piece assembly that will look stunning with an oil wash and careful detail painting. It looks like a shrunken 1/48th scale cockpit, the detail is THAT good. Arma Hobby recommends using "Cockpit Green" for the interior color. I have seen references stating that early Ki-84 cockpits were blue/gray in color and late cockpits were painted Aodake (a transparent preservative, often tinted blue or green to verify coverage). Take your time and consult your references carefully...
The 1900 hp Nakajima Ha-45 18 cylinder engine is incredibly detailed. Careful dry brushing and an oil wash will bring out this excellent detail; too bad some of it will be obscured by the 4 bladed Pe-32 propeller.
The clear parts include a 3 piece canopy which you can pose open or closed. There are 2 different fuselage upper decking sections to cater to open or closed canopies, although I don't know why you would lavish your care and attention on that cockpit only to close that canopy.
Arma Hobby's decals are crisply printed with bright colors and good registration. The decal sheet includes 2 different aircraft options:
Ki-84 Ko Hayate, 1. Chutai, 112. Sentai, Cpt. Yasuro Masaki, Nitta Airfield, Japan, June-July 1945. This Gale was painted Olive Green over Light Olive Green with a white spinner and fuselage band.
Ki-84 Ko Hayate, 3. Chutai, 72. Sentai, Clark Field, Phillipines, early 1945. This Gale was painted Olive Green over Light Olive Green with a yellow spinner, cowl ring and fuselage and fin/rudder bands.
The decal sheet includes 2 complete sets of air frame stencils and seat harnesses.
The instructions are up to Arma Hobby's high standards. The instructions include a parts map, a well illustrated and logical build sequence and full color profiles of all 6 decal options. Color call outs are for Hataka, AK Real Color, Lifecolor, Mig AMMO, Humbrol, Vallejo and Tamiya paints. Federal Standard (FS) color numbers are also included. My overall impression that this is a top shelf presentation.
Conclusion
Arma Hobby's Nakajima Ki-84 is a great kit of one of my favorite planes. It's accurate and well detailed right out of the box and includes everything you need to build a contest-winning model; take your time and give this model the care and attention it deserves. The decal options are interesting and there's always the aftermarket if none of the options suit your fancy. I recommend this kit and I would like to thank Arma Hobby for the review sample.
References
Nakajima Ki-84 Hayate, Volume No. 18, by Leszek A.Wieliczko, Kagero Publications, 2005.