Internet Modeler : First Look : Aviation
RSS News Feed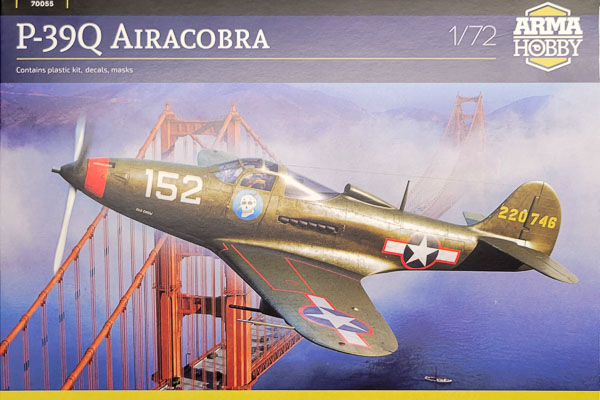 Arma Hobby 1/72 P-39Q Airacobra
Overview
The Bell P-39 Airacobra was an interesting design of its time, with tricycle landing gear, center-mounted engine, and a 37mm cannon shooting through the propeller hub. With all of those innovations rolled into a single airframe, it is no surprise that the P-39 went through many changes throughout the Second World War. This fact is driven home through the plane's designation, topping out at the P-39Q as the last operational variant. This constant evolution made the plane viable in every theater and it saw action in Europe, the Pacific, and North Africa, while flying combat missions in the air forces of the United States, Britain, the Soviet Union, Italy, and France.
The Kit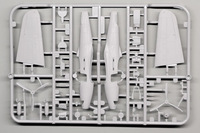 Arma's kit of the P-39 is the latest in a fairly long line of Airacobra kits over the years, as the plane has been a fairly popular subject for modelers. Airfix and Revell stepped into the P-39 model world back in 1965, and both of those kits have been re-released multiple times over the following decades. Heller and Frog/Novo were next with releases in the 1970s, and the Heller kit remained the best choice until Academy came out with a new P-39 kit in 1998. Zvezda, RS Models, and Hobby Boss soon followed, each providing improvements on the previous options, but none of those hit that sweet spot of easy-to-build and highly detailed, and aside from the RS Models releases, they all focused on a single variant (or maybe two, generally captured poorly).
Enter Arma Hobby, with their new P-39Q Airacobra release. Finally we have a kit of the P-39 where attention to those variant differences has been taken into account, and is highly detailed, and (if their P-51B is any indication), is easy to build. This first release covers the P-39Q variant, but the parts breakdown on the sprues shows that many other variants will be coming out (in fact, a new boxing has the P-400/P-39D out, combined with their F4F-4 kit in a dual release called Cactus Air Force).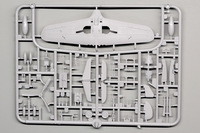 First, the basics. You get two gray sprues and one clear, a set of canopy masks, and a nice decal sheet with five options. Additionally, answering the big challenge of building P-39 models, there are three metal balls that fit into recesses in the nose assembly, eliminating the need for guesswork on both how much and were to put nose weight. Detail-wise the overall quality is superb, with crisp recessed panel lines, petite raised cockpit details, and highly detailed landing gear. Options include two sizes of bombs and a drop tank to choose from for the centerline and both cockpit doors separate for open/closed options.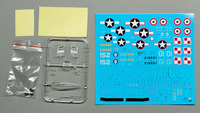 For marking choices, there are three US, one Italian, and one Polish option included. The US options include Bud Anderson's Old Crow from 1943 in Oroville, California, finished in olive drab and neutral gray with red-outlined stars & bars, Devastating Devil from the 6th FS, 15th FG out of Makin in the Gilbert Islands in late 1943, finished in a light sand color over sky blue, and an 82nd TRS, 71st TRG P-39Q out of New Guinea in 1944, with several names painted on the plane and complete with the white rear fuselage found on these aircraft in that theater.
The remaining two are both olive drab over neutral gray, but with international markings, the first being the Italian option from 10° gruppo, 4° stormo at Galatina Air Base in Italy in 1944. In addition to the basic camouflage, this option also has a red spinner. The final option is the Polish Airacobra, flown by Fiodor Polynin in Warsaw in 1945. The decals are superbly printed and, having used the same brand on the P-51B, I know that they will go down beautifully.
So, with the basics out of the way, let's look closer at what's really in the plastic. As noted earlier, this kit is designed to cover multiple variants, which makes sense as there are a LOT of colorful marking options on P-39s that are not the Q variant. But, because the plane went through such incremental tweaks and changes throughout its life, covering all these variants with just one set of plastic parts is extremely challenging, to put it mildly. Even more so when one realizes that the differences are very minimal, and often are just panel line changes.
| | |
| --- | --- |
| | |
That said, there are distinct differences, and in scouring the plastic parts it quickly becomes apparent that Arma has done a good job at engineering this kit to cover those differences. First up, there are three different nose cannon barrels (two of which are called out for use in the instructions, so even within the P-39Q variant, there were differences). Sticking around the nose, there are two different inserts for the nose guns, with the Q variant getting the one with additional vents molded in place. Also, there are two styles of nose wheels, and two styles of propellers. Moving further back on the fuselage, the sprues have two styles of exhaust stubs, a six-pipe and a 12-pipe. There are only two things that I can perceive as missing in the kit. One is whatever camera port that is found on the reconnaissance variant, but as I haven't been able to find drawings or really clear photos of that yet, I'm not too surprised Arma doesn't have it. The other is the horizontal splitter in the intake behind the cockpit. This sits back in the intake a bit, so it's not immediately visible in photos, but when viewed from the right angle it becomes quite apparent. This is a simple addition, though, and a piece of plastic card will get you there really fast.
Which brings us to the panel lines next. Arma has opted to have the modeler fill in panel lines for different variants, rather than scribe new ones, and I am all for this. It is much more difficult to scribe panel lines and have them match depth and width to the other ones, than it is to fill them in. That said, there does seem to be some panels that shouldn't be there on any versions, and in all of those cases it's because the panel exists on the opposite side. Mirroring of parts is understandable, as it greatly reduces production times, but these errors can creep in. For the most part, though, these are minimal and if you ignored them few would know. The only one that I'll definitely fill in, though, is the trim tab on the elevator. This is prominent on the kit, and the P-39 had that trim tab only on the right side, not the left.
Conclusion
The fact that I had to do some really deep digging into this kit to find all of this speaks volumes to just how good the kit is overall. Ignoring all of that and building this out of the box will result in an excellent P-39Q on your shelf, and for those who want to go the extra step and make those minor tweaks, it'll be even better. Here's hoping that future releases will tap into the post-war P-39 racers, too, as that's a way to get some really bright color on your P-39. My thanks to Arma Hobby for the review sample.