Internet Modeler : First Look : Aviation
RSS News Feed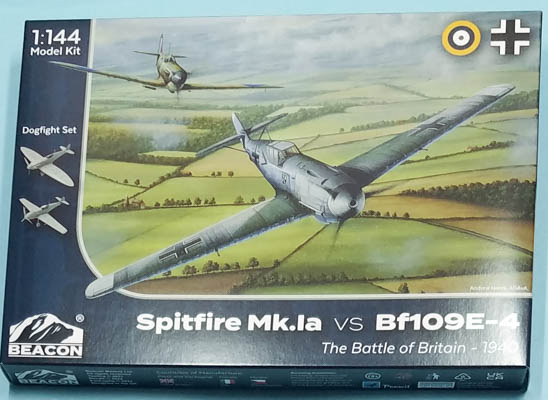 Beacon Models 1/144 Spitfire Mk.Ia vs Bf109E-4
Overview
Beacon Models is a new manufacturer of 1/144 models. Their first foray into the 1/144 world was a Kickstarter event, which included not only the kits but extra decals and 3D printed items. Once that was successful, they then opened their shop for sales.
Once sales even out, the plan is to keep going with more aircraft that flew during the Battle of Britain.
The Kit
The Beacon Models 1/144 Spitfire Mk.Ia vs Bf109E-4 release consists of one Spitfire Mk.Ia (with 29 pieces of gray, injected plastic and three clear, injected canopies) and one Bf 109E-4 (with 37 pieces of gray, injected plastic and three clear, injected canopies). Note that both kits contain extra parts, so if you have the knowledge and decals, you can make different versions of each type. For example, the Spitfire has three different propellers, including a two-blade version so you can create the early form of the Spitfire Mk.I. Also included in the set are canopy masks for both models.
Decals for only one scheme is provided for each kit:
Supermarine Spitfire Mk.Ia: N3196 "XT-L," No. 603 Squadron, RAF Hornchurch, September 1940. Flow by Pilot Officer Gerald "Stapme" Stapleton
Messerschmitt Bf109E-4: W.Nr.1480 "Black Chevron," Stab2./JG3, France, September 1940. Flown by Oberleutnant Franz Von Werra
The decals are nicely printed, appear to be in register and include stenciling.
Each kit has a nicely detailed cockpit out-of-the-box but doesn't include any type of seat belts, decal or otherwise so you need to source those yourself. Each cockpit is a two-piece affair consisting of the main tub, with seat molded in situ, and an instrument panel. Neither kit has a control stick, easily added. With the proper painting, washes and dry brushing each cockpit will look really good. Note that the Spitfire does not have a separate cockpit door, so if you want to open that you'll need to do so on your own. Also note the provided canopies only come closed.
Once the cockpits are painted and added to the starboard fuselage half, then each fuselage half can be glued together and construction moves quickly after that. Each model has a one-piece wing and the Bf 109 has a separate upper, forward nose piece (faciliting other versions in the future). The stabs can be added now as well, creating complete airframes.
The final construction steps include adding props, wheels and antennas, all best left off until after painting and decaling. Note that Beacon Models include separate parts if you decide to build your models gear-up. In fact, they also include prop-less spinners for just such a thing.
Unless you decide to super-detail these kits, construction will take little time.
Conclusion
Beacon Models is to be congratulated for coming out with kits of these iconic aircraft in 1/144, and then box them together in a "Battle of Britain" set. If I had to complain it would be that the panel lines are a little too deep for the scale, but adding primer to your finishing should help with that. Note that via their site you can purchase a decal set of Spitfire and Bf 109 generic markings, along with downloadable STL files so you can 3D print a populated cockpit for each, or for a British dispersal set. I'm definitely looking forward to future Beacon Models product!
Huge thanks to Beacon Models for the review set.