Internet Modeler : First Look : Aviation
RSS News Feed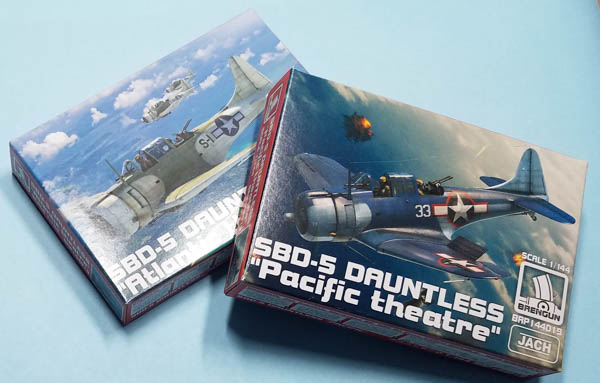 Brengun 1/144 SBD-5 Dauntlesses
Overview
Brengun released their first 1/144 SBD Dauntless a couple years ago. This time they provide decals - and changed instructions - to make this kit into the SBD-5 later variants. I refer the reader to that article for a more detailed explanation of this first release.
The Kit
The plastic in these SBD-5 boxes is exactly the same as their SBD-3 releases, the only difference is the cowl you glue on the front. Brengun has released two different boxings, "Atlantic Theater" and "Pacific Theater" with different decals.
Atlantic Theater:
SBD-5, Vergin Island, Spring, 1944, Pilot Maj. Christian C Lee, CO of VMS-3 (finisihed overall in the typical Atlantic scheme of Dark Gull Gray and White)
Dauntless DB Mk.I, British Royal Navy Fleet Air Arm, 1944 (finished with Intermediate Blue and Dark Sea Blue uppers, with White undersides)
Pacific Theater:
Bombing Squadron VB-16, USS Lexington (CV-16), November 1943
VSMB-231, US Marines, Marshcall Islands, 1944
VB-16, USS Lexington (CV-16), Palau, March 30 1944, Pilot Lt (JG) George T. Glacken, Gunner Leo Boulanger
Everything else is the same between the SBD-3 and SBD-5 boxings.
Keep in mind that Brengun has released their own aftermarket for their SBD kits. This includes an exterior set, replacement wheels and a vaccuum-formed replaced canopy set.
Conclusion
It's not a surprise that Brengun has released their Dauntlesses as SBD-5s. They already had the -5 cowl on the sprue but just needed the decals to support that version. And now they have them and has released two boxings worth. Take your pick for the scheme you want to finish your -5 as.
Many thanks sent to Brengun for both review kits.