Internet Modeler : First Look : Aviation
RSS News Feed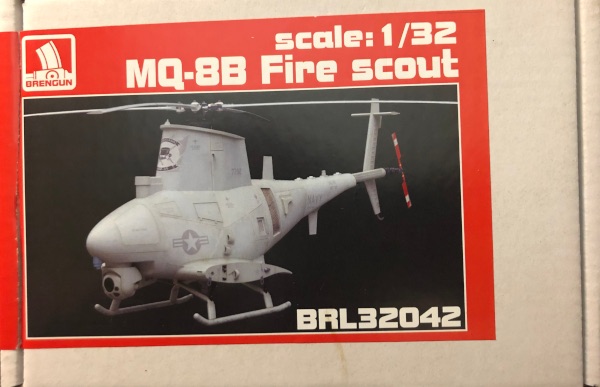 Brengun 1/32 MQ-8B Fire Scout
The MQ-8B Fire Scout
Northrup Grumman developed the MQ-8B, an unmanned autonomous drone helicopter, for the United States Armed forces. The MQ-8B provides situational awareness, aerial fire support, reconnaissance and precision targeting support for air, ground and sea forces. On January 16, 2006 an RQ-8B Fire Scout landed aboard the amphibious transport ship Nashville while it was off the coast of Maryland, marking the first time an unmanned helicopter landed aboard a moving U.S Navy ship without a pilot controlling the aircraft. As of 2018, 23 MQ-8B variants were in U.S. Navy service.
The Model
The kit comes in a stout cardboard box adorned with a photograph of the finished model. This is a fairly hefty kit with the main helicopter body a solid piece of resin. The kit consists of 68 pieces. 45 of these are resin plus there is also a 22 piece photo-etch fret and a comprehensive decal sheet. The helicopter rotor center is a 3-D printed casting and it's detail is quite impressive. All of the resin pieces are finely molded, with minimal flash and well located casting blocks. The 4 rotor blades in particular come in for high praise with their molded-in "droop". The surface detail on the main body is a mix of recessed and raised panel lines where appropriate. The body also comes mounted on a huge casting block, and it will take some to liberate the body from it. The photo-etch parts include tie-down hooks, some screens for the main body's port side, various parts for the landing skids, main rotor assembly, etc.
| | |
| --- | --- |
| | |
The kit will be challenging to assemble due to it's combining some tiny PE bits with the resin castings, and as such it is aimed for an experienced modeler, adept with building multimedia kits. The average modeler should be able to get to grips with the kit, provided they follow Brengun's well illustrated, easy-to-follow instructions. The main rotor in particular should provide most modelers with a measure of "fun"....
The small decal sheet is well printed, legible and in-register. The instructions include a decal map and instructions for applying them to the 4 kit marking options, which are in any color you like, as long as you like USN Ghost Gull Grey!
Conclusion
This is a cool kit of an unmanned aircraft that I am completely unfamiliar with. It seems accurate and it is certainly well detailed. I think that it's a challenging model to build and it will reward the patient modeler prepared to proceed slowly and lavish attention on a kit that deserves it. Brengun continues to provide the intrepid modeler with off-the-beaten path modeling subjects. I recommend this kit to experienced modelers and I would like to thank Brengun for the review sample.
References
Wikipedia:
https://en.wikipedia.org/wiki/Northrop_Grumman_MQ-8_Fire_Scout