Internet Modeler : First Look : Aviation
RSS News Feed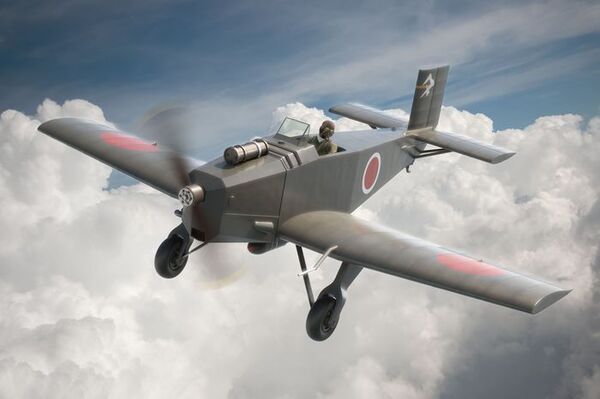 Brengun 1/72 Kokusai Ta-Go
The Plane
The Tachikawa-Kokusai Ta-Go was an IJAAF (Imperial Japanese Army Air Force) plane designed and built as a "Special Attack" (suicide) weapon for ramming attacks on advancing Allied tanks, boats and infantry. The tide had turned against Japan by 1944 and its heavy industry was increasingly targeted by Allied bombing raids and as a consequence the Ta-Go was built primarily of wood. The Ta-Go was powered by the 110 hp Hitachi HA 47 Hatsukaze 11 inverted 4 cylinder air-cooled engine and could carry a 100 kg bomb. It weighed 670 lbs, had a maximum cruising speed of 115 mph, a 93 mile range and a 15,100 ft service ceiling. The prototype was constructed by students. 3 were ultimately built and the plane was canceled upon Japan's capitulation.
The Kit
Brengun's 1/72nd scale Ta-Go consists of 37 injection molded plastic pieces and a small decal sheet. The simplicity of the full size plane is reflected in the kit. The surface detail is a mixture of fine recessed and raised panel lines where appropriate. There is a small amount of flash on some parts which will be easily removed. The parts themselves will come off the sprue easily thanks to their small and well located attachment points. The 4 exhaust stacks are nicely rendered but are likely to fall victim to the "carpet monster" and are best replaced with brass tubing. I would also substitute fine wire for the pitot tube's head. The interior is nicely detailed and you get an instrument panel decal. The final touch will be a seat harness from your spares box.
The Ta-Go was painted overall IJA 43 Black Olive Drab. Brengun supplied no paint recommendation so a little research will be needed.
This a perfect candidate for a inclusion in a diorama or it will be a perfect contest entry all by itself.
Conclusion
In the Ta-Go Brengun has produced another great little kit. It's well detailed and although I can't vouch for its accuracy, it looks the part from the photos that I have seen. This will be a worthy addition to your collection. I recommend Brengun's Tachikawa-Kokusai Ta-Go and I would like to thank Brengun for the review sample.
References
https://plane-encyclopedia.com/ww2/kokusai-ta-go