Internet Modeler : First Look : Aviation
RSS News Feed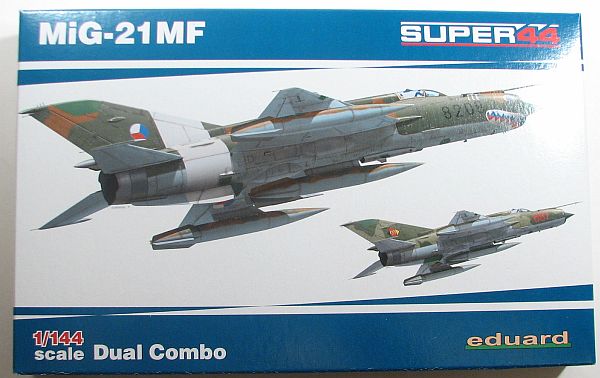 Eduard 1/144 MiG-21MF Dual Combo
Introduction
When Eduard first released their 1/48 MiG-21s, the "other scales" were clamoring, hoping they would scale them appropriately. Unfortunately Eduard skipped 1/72 and went right down to 1/144. However, that's not a bad thing. With Eduard re-launching their 1/144 line, there's hope they'll continue, especially when you see the high level of detail Eduard put into the 1/144 MiG-21.
The Kit
Since this is a Dual Combo release (kit #4425), you receive two complete MiG-21MFs in the box. Each MiG-21 consists of 54 amount of gray, injected pieces, and a sprue of 3 clear. Unlike other Eduard releases this one contains no photoetch, and it appears Eduard will not release photoetch until February. A shame we have to wait so long, but fear not as Brengun has risen to the challenge and released two photoetch sets for the kit – one exterior, and one interior. There are decals for eight schemes in the box:
MiG-21MF, 6th Fighter-Bomber Regiment, Pribam-Dlouha Lhota Air Base, Czechoslovakia, 1986
MiG-21MF, 211th Tactical Squadron, Caslav Air Base, Czech Republic, 2003
MiG-21MF, German Democratic Republic, Jagdfliegergeschwader 3, Preschen Air Base, 1990
MiG-21SM, 812th UAP, Kharkov Higher Military Academy, Kupyansk Airfield, Soviet Union, 1991
MiG-21MF, Slovak Air Force, 4th Flight, Silac Air Base, Slovakia, circa 1999
MiG-21MF, Polish Air Force, 10th Eskadra Lotnictwa Taktycznego, Lask Air Base, Poland, 2001 – 2003
MiG-21MF, Vietnam People's Air Force, 921st Fighter Regiment 'Sao Do', flown by Pham Tuan, Vietnam War, 1970
MiG-21MF, No.7628, Egyptian Air Force, unit unknown, Tanta Air Base, 1988
Decals are the first printed by Eduard and are very nice and in register. In addition to the kit parts and decals, Eduard has also supplied masks for each kit. Not only are there masks for the clear pieces, but also for all the "dielectric panels" that are to be painted "green", so you can paint those first and mask them.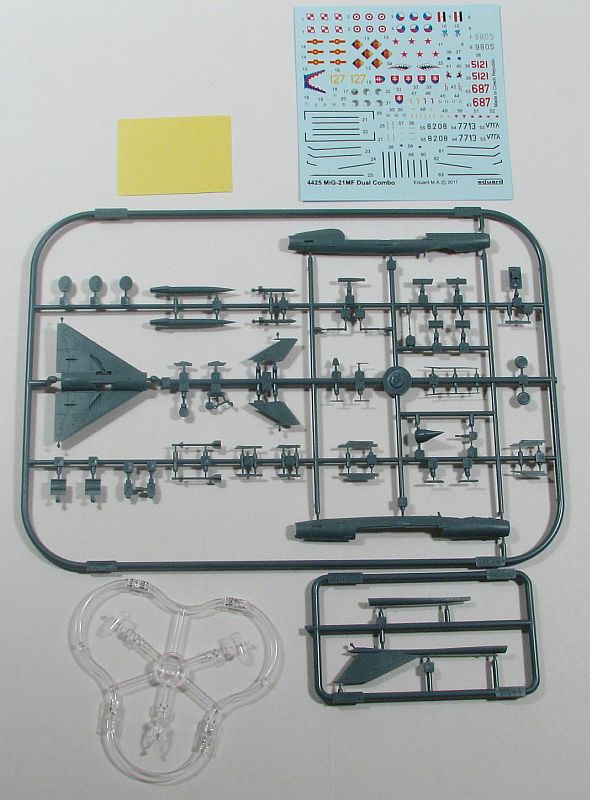 Construction starts with the cockpit, and out of the box it's really nice. The only things truly missing are seat belts, but there's plenty of room for super detailing (or using the Brengun photoetch). Once the cockpit is assembled then you glue the spine pieces together. The way Eduard has molded this will ensure other MiG-21 versions to be molded. An excellent sign. Now you complete the cockpit by gluing the separate side consoles to the fuselage halves, gluing the main cockpit to one half, and gluing the faux-engine blades and nose cone in as well. Now that everything is glued into the fuselage, the fuselage halves can be assembled. Note that Eduard provide no info on if weight is needed or not. I'm truly not sure if this is because the size warrants the center-of-gravity in such a place as it's not needed, or it was an over sight. I'll probably add some weight "just to be sure".
Now the fuselage halves are together the rest of the main external pieces can be added. Glue the separate spine/rudder/fin on the top, glue the main landing gear pieces together and then to the single-piece wing, glue the one-piece wing to the bottom, and glue the horizontal tail pieces on as well and you have a complete airframe. In addition to these parts you'll also glue the seat back into the cockpit.
The instructions now take you to adding the rest of the external pieces like landing gear, etc. I would leave those off until after painting. But once painting is finished then you glue the landing gear and gear doors on, the clear pieces (in which there are two main canopies, one open and one closed), the pitot tubes followed by whatever weapons and pylons you choose to add.
Color call outs are for Gunze paints so be forewarned. In fact Eduard has you mix Gunze paints for the interior – personally I plan on finding an acrylic "out-of-the-bottle" match instead.
Conclusion
Once again Eduard has raised the modeling bar, this time in 1/144 scale. This is a top-notch kit and all the other manufacturers need to look at Eduard and match what they've accomplished with their MiG-21. Even with Eduard not planning on photoetch for this kit until later, there will always be other aftermarket manufacturers (this time Brengun) will to rise to the challenge. If 1/144 is your scale and you want to build a MiG-21MF, then there are no other kits to consider.
Many, many thanks to Eduard for sending this superb kit in for review.