Internet Modeler : First Look : Aviation
RSS News Feed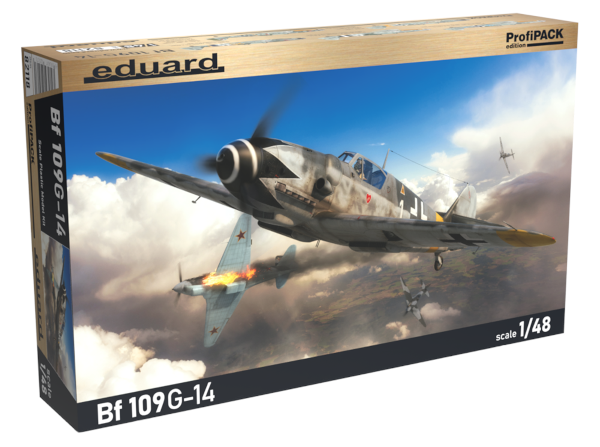 Eduard 1/48 Bf109G-14 ProfiPACK
Eduard's reissued their Messerschmitt Bf109G-14. It comes in their customary stout box with evocative artwork of a Bf109G-14 engaged in battle with Russian fighters (Yaks?) high over the Reich. It consists of 204 plastic parts on 5 sprues, one of which is clear. You also get 37 photo-etch parts, many of them pre-painted, on a single fret and a set of masks. This fret includes rudder pedals, seat belts, instrument panel, wing radiator faces, D/F loop, Morane antenna, etc.
The surface detail on the wings and fuselage consists of recessed panel lines and rivets where appropriate and this detail is superb. You get your choice of 2 different upper cowlings, the first with the small press (gun openings) and the second with the straight punch and no press at the rear of the gun troughs. Eduard also includes the correct G-14 starboard Beule (bulge) with the small generator cooling scoop and bulge for the larger oil pump.
The kit includes standard and tall fins plus 1 standard rudder and 3 different tall rudders. Eduard's parts map depicts 2 of the tall rudders as surplus parts. I recommend that you check photographs for the aircraft you plan to build if photographs are available. Subcontractors provided different fins and rudders late in the War when supply chains were disrupted; these extra rudders might be applicable to your chosen aircraft.
The wings are highly detailed. The wheel wells are deep, multi-piece moldings that are convincing in their complexity. The leading edge slats are separate pieces and they are well done. The ailerons, underwing radiator flaps and horizontal stabilizers are also individual pieces. The fabric effect on the ailerons, rudder and horizontal stabilizers is well executed. I like the 3 piece main wheels; the parts breakdown will make them easy to paint.
The cockpit is very nice. It uses photo-etch parts in conjunction with the plastic pieces to accurately depict the Gustav cockpit, down to the clear sight glass in the cockpit fuel line on the starboard fuselage sidewall. You have your choice of using a decal on the injection molded instrument panel or you can use the excellent photo-etch panel instead.
Optional parts include a number of Rustsatze (field conversion sets): R-1 (ETC 900/IXb rack with SC 250 bomb), R-2 (ETC 50/VIId rack with 4 SC 50 bombs), R-3 (300 liter drop tank), R-6 (MG 151/20MM underwing cannon) and R-7 (Direction Finding (DF) loop). These parts are nice to have and very useful to boot.
The clear parts are similarly comprehensive. They include 2 gunsights, 3 different windscreens, the fuel line, "Galland Panzer" canopy armor, and 3 different Erla Haube canopies.
Eduard's decals are excellent. There are 2 sheets, one of which is just stencils for the airframe. The 2nd sheet is devoted to 5 different aircraft options:
"White 1", Hptm. Eric Hartmann, 4./JG 52, Csór, Hungary, October 1944. This one of Hartmann's more colorful aircraft. The camouflage is the standard mid War colors of RLM 74 and 75 over 76 with a black spinner with a white spiral, black tulip pattern on the nose and RLM 04 Yellow lower wing tips and fuselage band. This G-14 had the standard rudder.
"Blue 3", W. Nr. 512382, Lt. H. Schlick, 4./JG 77, Schönwalde, Germany, November 1944. The camouflage is the standard mid War colors of RLM 74/75/76 with a black spinner with a wide white spiral and an RLM 04 Yellow lower cowl. This G-14 had the standard rudder.
"Yellow 1", W. Nr. 46430, Magg. M. Bellagambi, CO of 5ᵃ Squadriglia, 2ᵒ Gruppo Caccia, Aeronautica Nazionale Repubblicana, Osoppo, Italy, March 1945. This plane had the tall fin and rudder and the tall tail wheel. The camouflage was RLM 74/75/76, with the rudder in overall RLM 82 with a hard edged RLM 81 mottle. The spinner was black with a white spiral with an RLM 04 Yellow lower cowl. This plane also had black outline fuselage Balkenkreuz normally associated with the Focke-Wulf FW190 and Ta-152.
"Black 8", Oblt. R. Schlegel, CO of 10./JG 4, Jüterbog-Damm, Germany, March 1945. This plane had the tall fin and rudder. The camouflage was RLM 74/75/76 with a black/white/black RVD (Reichsverteidigund or Defense of the Reich) fuselage band and a large area of RLM 74 over painting of a previous aircraft number aft of the cockpit. The spinner was black with a wide white spiral and the lower cowl was RLM 04 Yellow.
"Yellow 25", W. Nr. 464534, EJG 2., Pilsen, Czechoslovakia, May 1945. This plane also had the tall fin and rudder. The camouflage was RLM 74/75/76 with the previous RLM 04 Yellow lower cowl overpainted with gray paint. The wing leading edge and the upper camouflage demarcation had the sawtooth dermarcation normally found on reconnaissance aircraft such as the BF109G-8. The spinner was black with a narrow white spiral.
The instructions are up to Eduard's usual high standards. The instructions include a parts map, a well illustrated and logical build sequence, full color profiles of all 5 decal options, and a stencil application guide. Color callouts are for GSI Creos (Gunze) and Mission Models paints.
Conclusion
This is a great kit of an important aircraft and it's great to have it back on the market. I am a fan of Luftwaffe fighters and I love the Messerschmitt Bf109, especially the late variants. Eduard's Bf109G-14 kit is accurate and well detailed.
The ProfiPACK boxing has 5 exciting decal options and with the included masks and PE set you can build a contest winning model right out of the box. If you want to take the kit to the next level you have numerous options to choose from with Eduard's numerous Brassin resin and photo-etch sets. I recommend this kit and I would like to thank Eduard for the review sample.
References
Messerschmitt Bf109 in action, Part 2, Aircraft Number 57, by John R. Beaman, Jr., Squadron/Signal Publications, 1983