Internet Modeler : First Look : Aviation
RSS News Feed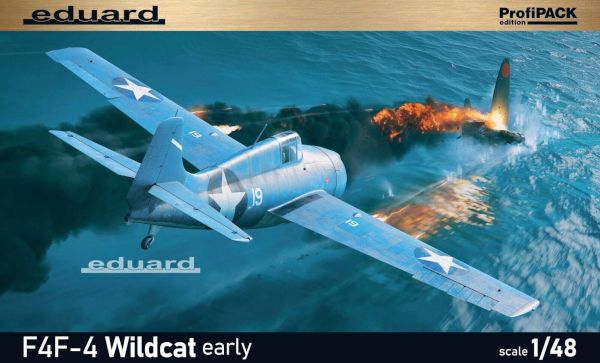 Eduard 1/48 F4F-4 Wildcat early ProfiPACK
The Plane
Grumman Aircraft delivered the first F4F-3 Wildcats in February 1940. The F4F-3 had non-folding wings and armament of 4 .50 machine guns in the wing. It was powered by the 1200 horsepower Pratt & Whitney XR-1830-76 radial engine with a 2 stage supercharger. The Wildcat had a maximum speed of 331 mph, a range of 845 miles, a rate of climb of 2,303 feet per minute and a service ceiling of 39,500 feet.
The F4F-4 followed the F-3 into service. It had folding wings and an additional pair of .50 machine guns. The armament was reduced from 450 rounds per barrel to 250 rounds per barrel. The F4F-4s were received with some reservations by their pilots as they were less agile than the -3 and their rate of climb was slower.
The Kit
You get 208 parts in the box. 155 of them are plastic on 6 sprues. There are 52 parts on a single photo-etch fret plus a small sheet of rice paper masks for the windscreen, canopy and the mainwheels. The surface detail of the wings and fuselage consists of delicate recessed panel lines and rivets along with raised panels where appropriate. This detail is well executed and it will look stunning under thinly applied paint and panel line washes.
The cockpit is busy and it has superb detail. You can use the kit instrument panel decal or opt for the PE "sandwich". The photo-etch fret includes the seat harness, throttle quadrant and major elements of the fuselage side consoles.
Grumman Wildcats had complex landing gear and the kit captures it very well. The wing spar is integrally molded with the rear wheel wall and the engine mount also attaches to the wall. The landing gear chains are installed here too. The fabric ailerons, rudder and horizontal stabilizers are molded separately and the fabric effect is convincing.
The 14 cylinder 1,000 horsepower Pratt & Whitney R-1830-66 Twin Wasp radial engine is assembled from 4 well detailed parts which will look great with an oil wash and careful dry brushing. The engine attaches to the fuselage front and in turn is enclosed in a 3 piece cowling. The kit includes marking options for 6 different F4F-4 Wildcat aircraft:
"White 19", BuNo 03417, Lt. Stanley W. Vejtasa, VF-10, USS Enterprise (CV-6) October 1942. This F4F-4 was painted Blue Gray over Gray.
"White 10", BuNo 5149, VF-3, USS Yorktown (CV-5) & USS Hornet (CV-8), May/June 1942. This Wildcat was painted Blue Gray over Gray with a red/white striped rudder.
"Black 28", Ensign Thomas W. Rhodes, VF-6, USS Enterprise (CV-6), August 1942. This F4F-4 was painted Blue Gray over Gray.
"Black F 16", Ensign Benjamin F. Currie, VF-5, USS Saratoga (CV-3)/Guadalcanal, autumn 1942. This F4F-4 was painted Blue Gray over Gray.
"Black 9-F-12", Ensign Hamilton McWhorter, VF-9, USS Ranger (CV-4), October 1942. This F4F-4 was painted Blue Gray over Gray and the national insignia had a large yellow outline for participation in Operation Torch.
"White DF-42", OTU VFB-8, Daytona Beach, United States, 1944 This plane was Sea Blue and Intermediate Blue over White. The upper wings and tailplanes were Sea Blue.
The large decal sheet include the 6 decal options plus the airframe stencils. The rice paper masks are for the windscreen, canopy and the wheel hubs. The instructions are well illustrated with a logical assembly sequence. Color callouts are for GSI Creos (Gunze) Aqeous and Mr. Color and Mission Models paints.
Conclusion
Eduard's new F4F-4 Wildcat is a great kit. Because this is the ProfiPACK boxing everything you need is right in the box but Eduard caters to those afflicted with AMS (Advanced Modelers Syndrome) with Brassin, Look and Space aftermarket sets to choose from. I recommend this kit and I would like to thank Eduard for the review sample.
References
Wikipedia: https://en.wikipedia.org/wiki/Grumman_F4F_Wildcat