Internet Modeler : First Look : Aviation
RSS News Feed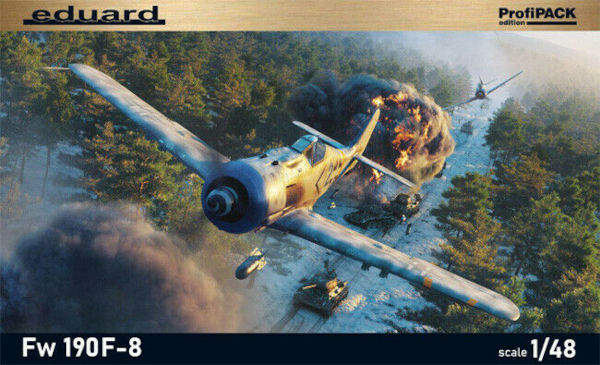 Eduard 1/48 FW190F-8 ProfiPACK
The Plane
The Focke-Wulf FW190F-8 was a versatile fighter-bomber aircraft that saw extensive service with the Luftwaffe during the final battles of World War II. Powered by the BMW 801D-2 radial engine which turned the VDM 9-12176A 3 bladed propeller, the F-8 had armor plates added to the fuselage and engine cowling for extra protection in the ground attack role. It was heavily armed with 2 cowling-mounted MG131 machine guns and a pair of MG151/20 cannons mounted at the wing roots. The F-8 could carry an impressive array of ordinance on the ETC501 center line rack (300l drop tank, SC50 or SR250 bombs) and the 4 wing-mounted ETC50 racks (SC50 bombs). It could also be equipped with MG151/20, MK 103 or MK 108 guns in the mid-span gun bays. The F-8 also sported some of Germany's most colorful, ad-hoc camouflage as the Luftwaffe retreated further into Germany during 1944-1945.
The Kit
This is the ProfiPACK boxing of the retooled Focke-Wulf FW190F-8. Eduard's F-8 kit is very comprehensive, consisting of 289 parts. 286 of these are injection molded plastic, molded in gray and clear on 9 sprues. It also includes rice paper masks and 2 photo etch frets containing 76 parts, some of which are pre painted. The fuselage and the wings have recessed rivets and panel lines and this surface detail is well done. The rivets in particular are spectacular and they will look great under carefully applied paint and thoughtful weathering.
The cockpit is a busy, detailed assembly that uses many of the PE parts. You can choose a simple plastic instrument panel with a decal for the dials or a 3 piece plastic and PE "sandwich".
The smaller photo-etch frets includes a seat harness, rudder pedals, sidewall console, bomb/drop tank control panel, throttle quadrant, D/F loop, etc. The larger panel provides the fins and stabilizers for the SC50, SC250, SC500, SD250, AB250 and AB 500 bombs included in the kit.
The 2 decal sheets (there is a smaller one for air frame stencils) are comprehensive and include 7 different decal options:
"Blue 2", Stab I./SG 2 Csar or Raab, Hungary, winter 1944/1945. This colorful F-8 was painted in the mid-War RLM 74/75/76 camouflage with a densely applied white distemper (temporary) paint over the upper surfaces. The spinner was black with a tight white spiral, the armored cowl ring was RLM 24 Blue and the lower cowl and fuselage band were RLM 04 Yellow. The bottoms of the landing gear doors were removed for operation on snow covered airfields and this plane had the "blown" canopy. (Please note that this plane has previously been depicted as "Red 2" with a red cowl ring and aircraft number.)
"White 1". 1./SG 4, Airasca, Italy, June 1944. This F-8 was painted in the Desert upper camouflage color RLM 79, but over RLM 76 Light Blue rather than the customary RLM 78. Large RLM 80 Dark Green splotches were applied to the upper surfaces, the lower cowl was RLM 04 Yellow and the white fuselage band was partially over painted The canopy was the "standard" type and the spinner was black with a partial white spiral.
"Green 5", W. Nr. 586188, Stab III./SG 10, Hohenmauth (Vysoké Mýto) Protectorate Böhmen und Mahren, May 1945. Another colorful aircraft, this F-8 was painted in RLM 74/75/76 with RLM 70 Dark Green applied over much of the fuselage. The cowling had an RLM 04 Yellow Identification band, the spinner was black with a white spiral and the rudder was also RLM 04.
"White DH", W. Nr. 581632, 1./NSGr. 9, Villafranca di Verona, Italy, May 1945. This Wurger was painted RLM 74/75/76 with large RLM 83 blotches over the nose and fuselage. The spinner was Black.
"Green 1", Major Karl Schrepfer, CO of III./SG 1, Kraków, Poland, August 1944. This was another F-8 in RLM 74/75/76 with a light RLM 83 Dark Green on the lower fuselage and a light RLM 75 mottle below the horizontal stabilizers and 2/3rds of the rudder. The plane also had an RLM 04 Yellow fuselage and a black spinner with 2 Green (RLM 23?) and 2 black segments.
Eduard's instructions are well laid out. They include a parts map, a logical, illustrated assembly sequence, 7 color profiles and a stencil application guide. Color callouts are for GSI Creos (Gunze) Acqueos and Mr. Color and Mission Models paints.
Conclusion
Eduard's FW190F-8 ProfiPACK is an outstanding kit. It's accurate and well detailed right out of the box and the marking options are all very interesting. If you don't like any of the kit options there are numerous aftermarket FW190F-8 decal sheets available. You can also increase the detail level by choosing from Eduard's many photo-etched and Brassin sets. I recommend this kit and I would like to thank Eduard for providing the review sample.
References
The Focke-Wulf FW190, Radial Engine Versions (including FW190A, B, C, F, G & S) , by Richard A. Franks, Valiant Wings Publishing, 2014