Internet Modeler : First Look : Aviation
RSS News Feed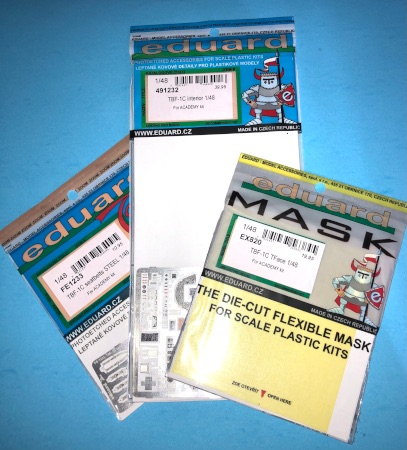 Eduard 1/48 Grumman TBF-1C Avenger
The Accurate Miniatures Grumman TBF-1C Avenger is a superb kit that has stood the test of time. Academy has reissued the TBF-1C. Eduard has wasted no time introducing canopy masks and photo-etch for it, so let's take a look at them...
EX820 TBF-1C TFace Masks ($12.95 USD)
This mask set provides masks for the interior and exterior of the windscreen and canopy.
FE1233 TBF-1C seatbelts STEEL ($10.95 USD)
You get 3 sets of belts for the pilot, radio operator and gunner. These are pre-painted, well detailed and will be easy to install.

491232 TBF-1C interior ($39.95 USD)
This 2 fret set includes 77 pieces. The first fret has 49 pieces, many of which are pre-painted. It includes an instrument panel, rudder pedals, radio set, throttle quadrant, sidewall consoles, etc. The second fret includes the turret ring, pilot seat, floor ribbing, gun controls, etc.
Conclusion
Accurate Miniatures produced some spectacular kits, their Avenger series among them. Italeri and Academy have reissued the Avengers. I'm glad to have them back on the market. They were accurate and well detailed and, in the case of the Avengers, have yet to be superceded. Eduard has produced these great PE sets to enhance the cockpit and airframe, and the TFace masks will simplify the otherwise burdensome task of masking that windscreen and large canopy. I recommend these sets and I would like to thank Eduard for the review samples.