Internet Modeler : First Look : Aviation
RSS News Feed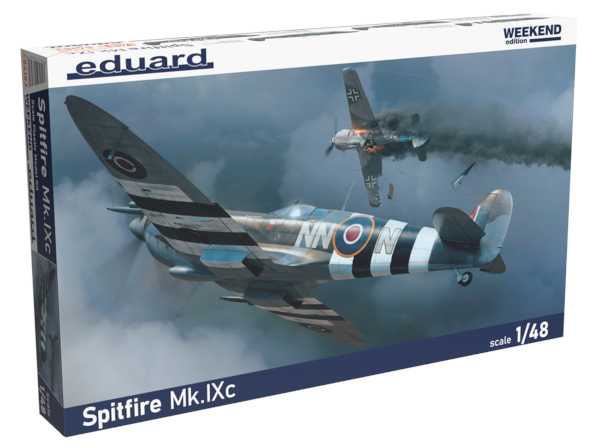 Eduard 1/48 Spitfire Mk.IXc Weekend
The Plane
The Supermarine Mk.IX was based on the earlier Mk.V, and it was powered by the 1565 hp Merlin 61 engine. Early Mk.IXs retained the Mk.V's rounded fin and rudder. A total of 5,665 aircraft were produced. There were 3 basic variants, the F Mk.IX (1565 hp Merlin 61 or 1650 hp Merlin 63), LF Mk.IX (1580 hp Merlin 66) and the HF Mk.IX (1475 hp Merlin 70).
The Model
Eduard's Mk.IX is back, reissued as a Weekend edition with the 'C' wing. It consists of 219 injection molded parts, molded in gray and clear on 5 sprues. 55 of the parts are destined for your spares box. These parts include the broad chord rudder, enlarged pointed wingtips, and "late" elevators with enlarged mass balances. The surface detail is excellent, and the mulit piece cockpit will look convincingly busy with a Sutton seat harness and careful detail painting. The surface detail consists of recessed panel lines, ribvets and Dzus fasteners where appropriate.
The kit includes 4 different decal options. All 4 were painted in the standard RAF European Theatre colors of Ocean Gray and Dark Green over Medum Sea Gray:
"NN-N", MJ291, F/O Otto Smik, No. 310 (Czechoslovak) Squadron, RAF Appledram, West Sussex, UK 1944. This Mk.IXc had Invasion stripes on the fuselage and wings and a Sky spinner. The ailerons retained the upper surface camouflage and interrupted the Invasion stripes.
"VZ-B", MH883, F/Lt George F. Beurling No. 412 Squadron RCAF, RAF Biggin Hill, UK December 1943 - April 1944. Beurling's Spitfire had a Sky spinner and fuselage band and 30.5 victory markings beneath the port windscreen.
"R-V", MJ628, W/Cdr Daniel A.R.G. Le Roy du Vivier, CO of No. 324 Wing, Italy, May 1944. Du Vivier's Mk.IXc had personal red codes outlined in white, and over painted fuselage band and a red spinner with a Sky backing plate.
"WZ-GJ", Maj. Garth B. Jared, CO of 309th FS, 31st FG, 12th Pomigliano/Castel Volturno base, Italy, 1943/1944. Jared's Spitfire had a red spinner and wing bands inboard of the wing tips. It also had the unit emblem on the port nose, 2 victory markings plus the names and titles of his crew. The plane also carried Jared's initials as codes.
The decals are very well printed, in register, and have accurate colors, and there is a separate sheet of stencils.
The instructions are well illustrated and include a parts map, stencil placement guide and color callouts for GSI Creos (Gunze) and Mission Models paints.
Conclusion
I am glad to see Eduard's Spitfire Mk.IXc back on the hobby shop shelves. It's a excellent kit. Many manufacturers tried and failed to get the proportions and dimensions of the Merlin powered Mk.VIII and IX correct (among them Occidental, Hasegawa, ICM) but Eduard nailed it with their Merlin powered Spitfire series. It's accurate and well detailed plus you have numerous Eduard's aftermarket accessories (Brassin resin, masks, photo-etch) to choose from. I recommend Eduard's Mk.IXc and I would like to thank Eduard for the review sample.
References
Modeler's Datafile 3: The Supermarine Spitfire, Part 1: Merlin Powered, by Robert Humphries, SAM Publications, 2000
Spitfire in action, Aircraft No.39, by Jerry Scutts, Squadron/Signal Publications, 1980