Internet Modeler : First Look : Aviation
RSS News Feed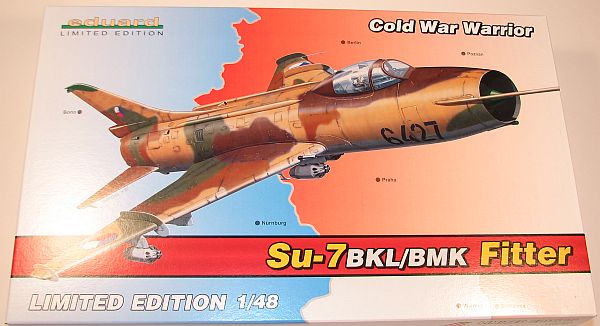 Eduard 1/48 Sukhoi Su-7
Introduction
Taken from Wikipedia: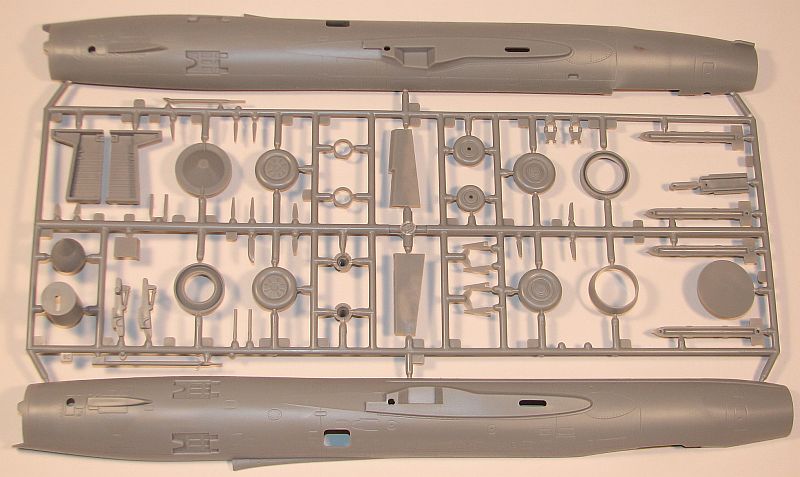 "On 14 May 1953, the Sukhoi OKB was reopened and initially tasked with copying the American F-86 Sabre fighter. By the summer, the OKB began work on a swept-wing tactical fighter for establishing air superiority over the battlefield (frontovoi istrebitel, фронтовой истребитель, front-line fighter in Soviet terminology). The first prototype, designated S-1, was designed to use the new Lyulka AL-7 turbojet and it was the first Soviet aircraft to utilize the all-moving tailplane and a translating centerbody, a movable cone in the air intake for managing airflow to the engine at supersonic speeds. The aircraft also had a dramatic wing sweep of 60°, irreversible hydraulically boosted controls, and an ejection seat of OKB's own design.
"The S-1 first flew on 7 September 1955 with A. G. Kochetkov at the controls. Fitted with an afterburning version of the AL-7 engine after the first 11 flights, the prototype set a Soviet speed record of 2,170 km/h (1,170 kn, 1,350 mph, Mach 2.04) in April 1956. The prototype was intended to be armed with three 37 mm Nudelman N-37 cannon and 32 spin-stabilized 57 mm (2.25 in) unguided rockets in a ventral tray. The second prototype, S-2, introduced some aerodynamic refinements. Testing was complicated by the unreliable engine and S-1 was lost in a crash on 23 November 1956, killing its pilot I. N. Sokolov. The aircraft entered service as Su-7 in 1959, although it saw only limited operational use.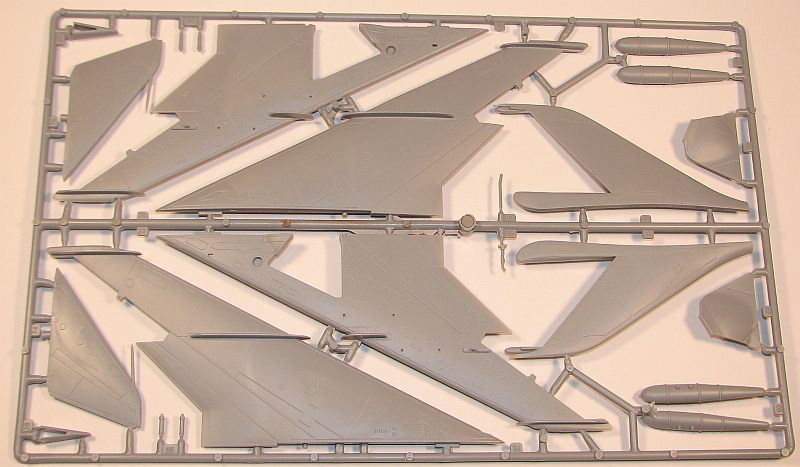 "On 31 July 1958, Soviet tactical aviation (Frontovaya aviatsiya, фронтовая авиация) tasked Sukhoi with developing a ground-attack version of the Su-7. The resulting S-22 retained the basic layout of its S-2 predecessor, incorporating primarily structural refinements for high-speed low-altitude operations. It first flew in March 1959, and began entering service in 1961 as the Su-7B.
"A total of 1,847 Su-7 and its variants were built, of which 691 were exported."
The Su-7BKL was a "rough-field capable variant with skids affixed to the sides of the main landing gear, provision for two SPRD-110 JATO rockets of 29.4 kN (13,300 lbf) thrust, and twin brake parachutes. Introduced in 1965, factory designation S-22KL. Manufactured 1965-1972."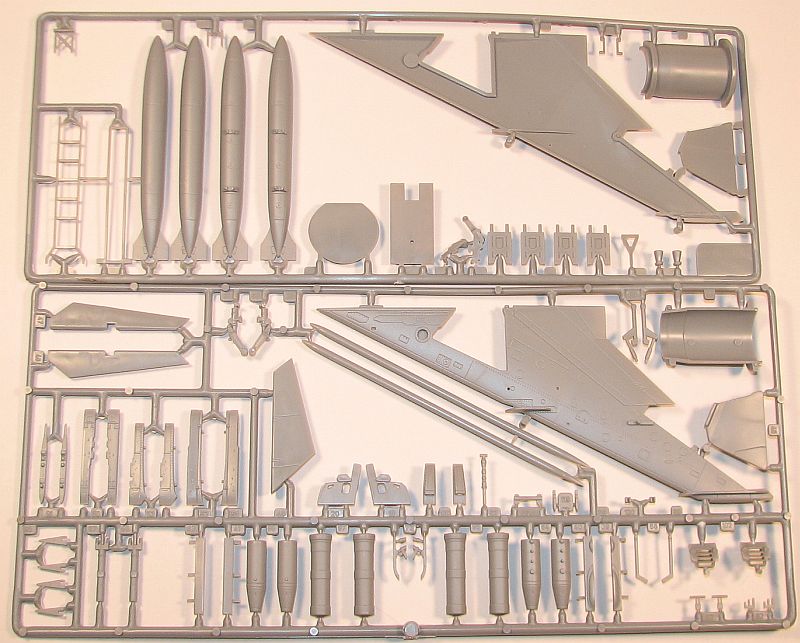 The Su-7BMK was "a simplified export version of Su-7BM. Manufactured 1967-1971" and the Su-7BM consisted of an "upgraded AL-7F-1 engine, upgraded fuel system with external piping on either side of the fuselage spine, fuel tanks installed in the wings, 'wet' underwing hardpoints for carrying external fuel tanks, capable of carrying tactical nuclear bombs. Manufactured 1963-1965."
The Kit
The Eduard 1/48 Su-7BKL/BMK Fitter A (#1148) is actually a re-release of the Kopro injected kit with extra, Eduard goodies.  The Kopro parts consists of 108 in injected, gray plastic, with an additional 10 in clear.  In fact, the clear parts give you two canopies – one with the windscreen integral if you want to close the canopy, and the other with separate canopy and windscreen, to display the cockpit with the canopy open.  An excellent solution.  The Eduard goodies added are in resin: an ejection seat and the area directly behind its headrest; in photoetch is two frets, one colored, one not.  The colored photoetch contains many cockpit parts and other internal details.  The second photoetch fret contains primarily external pieces.  All in all everything Eduard adds will take the kit up a few notches.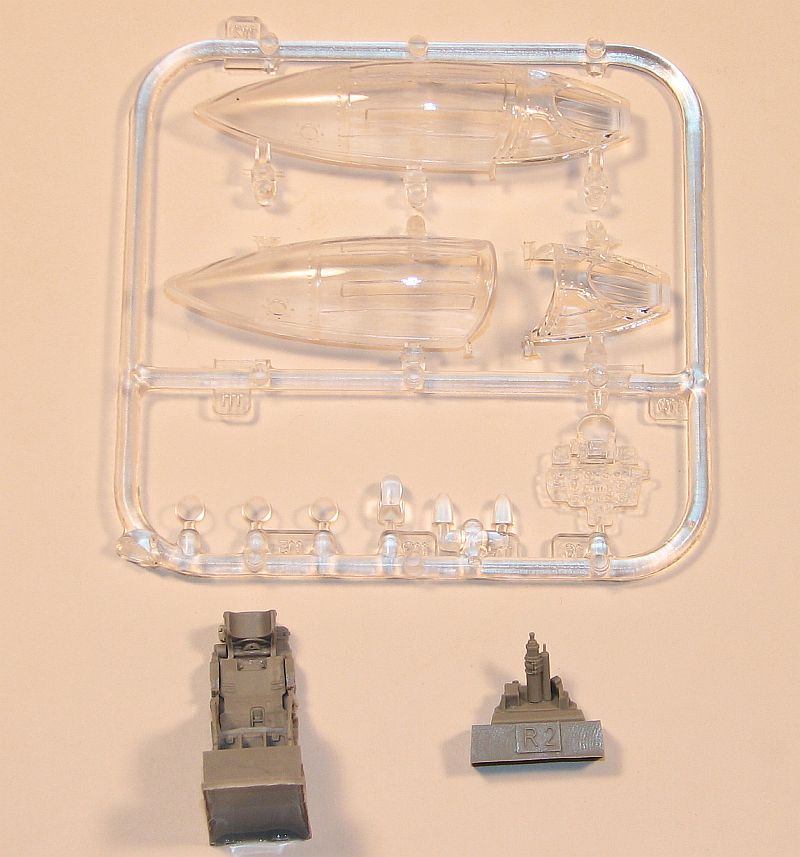 Decals are printed by Cartograf, in register, and feature the following airframes:
Su-7BKL, 20th Fighter-Bomber Regt, Czech People's Army
Su-7BKL, 20th Fighter-Bomber Regt, Czech People's Army
Su-7BMK, Egyptian Air Force
Su-7BMK, Iraqi Air Force
Su-7BKL, Soviet Air Force
Su-7BMK, 32 Sqn, Indian Air Force
Another nice thing about the Eduard reissue of this kit is their instruction book.  Eduard definitely has some of the best instructions in any kit, and this one is no different.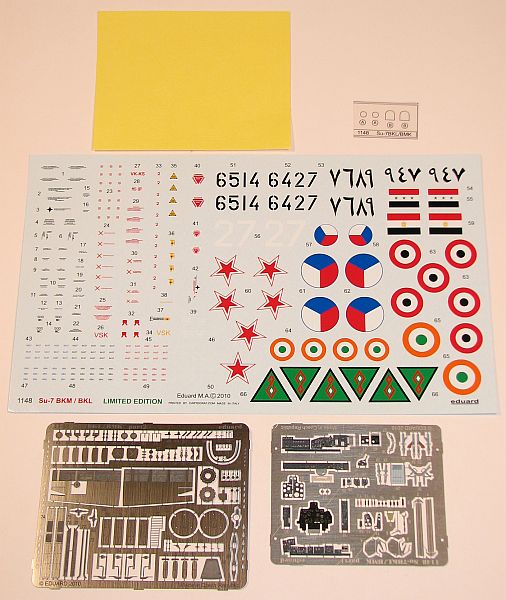 Construction naturally starts in the cockpit, and the Eduard instructions show exactly what modifications need to be made so the photoetch works – and where it's placed.  You'll need to place weight in the nose, which is shown in the instructions.  One nice thing with this kit is the control surfaces are all separate.  Personally, although the more modern aircraft tend to leave them "up" while on the ground, I think all models should be designed this way. You'll also want to study the instructions carefully to determine which pieces to use based on if you're building the Su-7BKL or Su-7BMK.
Conclusion
For the most part this should be a straight-forward build.  Where you'll need modeling skills and patience will be with the addition of the excellent Eduard photoetch.  I like how Eduard takes some of these "older" kits and adds quite a bit to it to make it better and a more interesting build.  Now if they would only start in on some 1/72 kits.
My thanks to Eduard for the review kit.