Internet Modeler : First Look : Aviation
RSS News Feed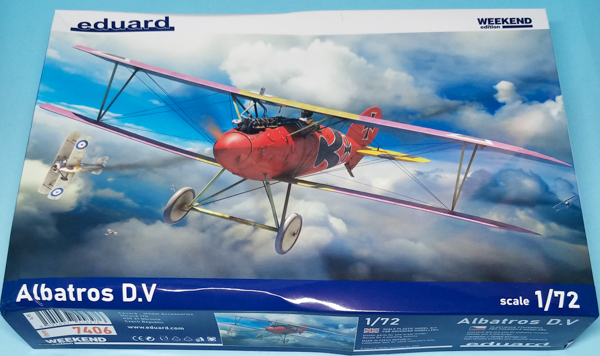 Eduard 1/72 Albatros D.V Weekend
I won't go into much detail in this review as we've covered the Eduard 1/72 Albatros D.V a number of times through the years, starting back in 2000:
The kit is holding up generally well over all this time, but I still have two complaints that haven't been addressed: the control stick is inaccurate and Eduard doesn't provide any of the radiator-to-engine pipes. Other than that it's a great kit.
Here are the markings for this release:
Albatros D.V, 2030/17, Lt. Alfred Lenz, Jasta 22, Ercheu, France, April 1918
Albatros D.V 2299/17, Lt. Xaver Dannhuber, Jasta 26, Abeele, Belgium, 1917
Albatros D.V 4629/17, Lt. Hans-Joachim von Hippel, Jasta 5, Boistrancourt, France, February 1918
Albatros D.V 1154/17, Lt. Max Ritter von Müller, Jasta 28, Varsenare, Belgium, September 1917
Personally my favorite is Lenz' all-blue D.V. The decals are up to Eduard's usual high quality and appear to be in register.
I have a number of these Albatros I plan to build so am looking for someone to produce a 3D printed, accurate control column. If you have that capability please, let me know. Sure I could keep scratching my own, but with at least ten Albatros to build, any way to save build-time is a plus.
My thanks to Eduard for the review kit.