Internet Modeler : First Look : Aviation
RSS News Feed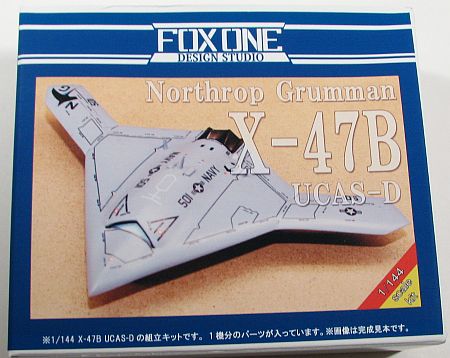 FOX ONE 1/144 Northrop Grumman X-47B
Introduction
The Northrop Grumman X-47B's first flight was in February, 2011. The X-47B is the US Navy's first foray into unmanned aircraft. Ultimately the USN wants their UAVs to be able to fly from aircraft carriers, naturally.
The goal of the X-47B is to test the capability of this range of aircraft. It has the same dimensions as the operational aircraft will, although it doesn't carry weapons. Eventually it should be autonomous. Anyone see the movie Stealth?
The Kit
Not long after its first flight, FOX ONE was already creating the masters for their 1/144 kit. There isn't much to it. There are thirteen parts, six of them antenna that are to be added to the top and bottom of the aircraft. The rest of the parts are for the landing gear. If you want to display this model in-flight it shouldn't be difficult, since the doors should slot into the wells just fine. In fact, you'll need to separate the nose gear doors if displaying the model gear-down.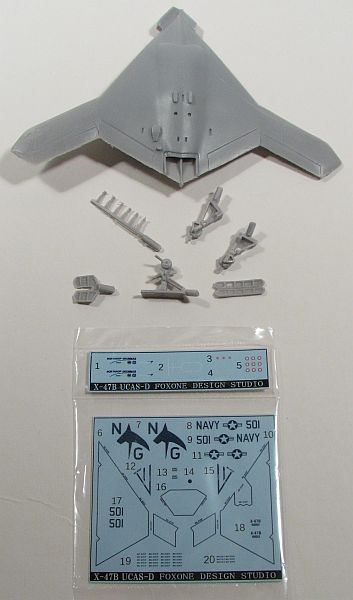 While there isn't much to construction, the same can't be said for the decals. There are two sets of decals, one ALPS-printed, the other printed on an Ink Jet printer. It is because of this you need to be extra careful with all decals. While the English-instructions on how to handle the decals don't make much sense, from reading FOX ONE's blog, and direct email, I was able to make more sense of it. While you still need to be careful handling the ALPS-generated decals, you can still use them as you would any other decals. However, the difference comes in using the Ink Jet decals.
First of all, you do NOT immerse them in water. What you do is let the decal "soak up" the water - hopefully the provided image will help. You'll still need to be careful, of course, as you're applying the decal. While FOX ONE did mention that it's okay to use the decal "out of the box", it definitely wouldn't hurt with another overcoat or three. If you do that just be sure to spray the coats very lightly - don't "drown" the decal when you spray. I'm thinking of either using Future or Microscale's "liquid decal".
Conclusion
All-in-all, the FOX ONE 1/144 Northrop Grumman X-47B is not a difficult build. The time consuming aspect comes in applying the decals, especially those that are Ink Jet generated. Take your time - have patience - and you'll be rewarded with the only known kit - in any scale - of the X-47B.
Many thanks to FOX ONE for the review kit.