Internet Modeler : First Look : Aviation
RSS News Feed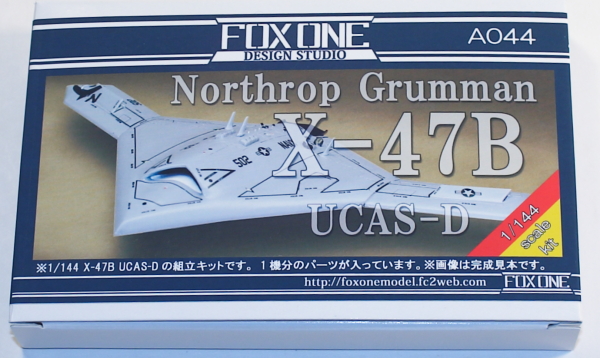 FOX ONE 1/144 X-47B
Introduction
Back in 2011 FOX ONE released the first to my knowledge (and I'm almost positive the first, period) model of the Northrop Grumman X-47B UCAS (Unmanned Combat Air System). It was a simple, mainly-one piece kit and while it captured the outline of the aircraft well, there was not much to it in terms of detail. Well, Foxone decided to create a better model of it in 1/144, and that they did.
The Kit
The new FOX ONE 1/144 X-47B consists of 41 pieces of gray resin and a decal sheet with markings for both prototypes, 501 and 502. The decals are very delicate being ALPS generated so care must be taken. The level of detail is worlds better than their initial release. The first release consisted of one-piece landing gear with separate gear doors and there was no wheel well detail. In addition, the only other separate pieces – aside from the one-piece body/fuselage/aircraft – were the separate blade antennas. That was all the kit had to offer. It was an easy way to have a model of the X-47B (and the only problems I ran into was with paint which has kept me from finishing it) and was easily a weekend-build.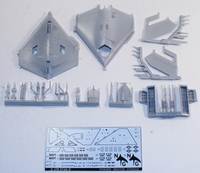 This newer FOX ONE X-47B has a lot more detail. The main landing gear wells/bomb-bay are separate pieces (best painted before addition) that are added to the bottom of the main fuselage, along with the separate jet intake (which probably would be best painted before adding as well, since it too is finished in white). Once those pieces are in the lower fuselage then both fuselage halves can be joined. While the next step has you add all the rest of the detail to the underside (landing gear, gear doors, etc.) I would wait to add everything until after painting.
The third instruction-step has you add the separate exhaust, but depending on how this fits into the fuselage it might best be left off until the very end, painting it separately. You'll also need to make a couple of decisions. With re-doing the X-47 FOX ONE allows you to either keep the wings out for flight, or folded for storage. In addition the spoilers can also be left closed or open. Once you make the decision this will decide your next course of action.
If deciding to build it wings-down, then add the outer wings prior to painting. However, if you want to display the model with wings-folded, then you may want to paint the outer wings separate from the main body then glue them on later.
Conclusion
Since FOX ONE decided to re-do their molds for this X-47B, it really results in a much more detailed model. One are the instructions don't cover is opening up the bomb bays. It's possible, since FOX ONE includes full bomb bays in conjunction with the main landing gear wells, but they provide no separate bomb bay doors nor stores that will go into those bays. So if you decide to tackle this, you are definitely left to your own devices.
Huge, huge thanks to FOX ONE for giving me the honor of reviewing this well done kit.