Internet Modeler : First Look : Aviation
RSS News Feed
KP 1/72 Zlin C-205/Z-226
Introduction
The Zlin Trener was designed as a replacement for the Bücker Jungmann and Bestmann. It first flew in 1947 and went into production in 1948. Later in life there were a lot that were flown privately participating in aerobatic competitions.
The company Kovozávody Prostějov (KP) was around for quite some time and was in its heyday in the 1970s. In fact, until recently, their MiG-15 was considered the "go to kit" in 1/72. It's good to see they're back and releasing Czech-centered aircraft as their first release.
I do need to apologize to KP, though. I've had these kits for quite some time but was hoping to finish one so I could publish both the First Look and a Full Build at the same time. Unfortunately life has a habit of getting in the way. So while I am close to finishing one, I don't want to delay the First Look any longer.
The Kit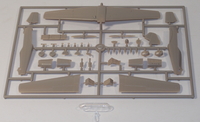 The KP Zlin Trener consists of 47 pieces of tan, injected plastic and one clear canopy as a single piece. Dependent on the box you choose are what decals come with that version. The decals appear to be in register and are nicely printed.
The cockpit consists of a floor, two seats, two control sticks (if needed), two sets of rudder pedals (if needed) and two instrument panels. Depending on the version modeled you may have to "turn around" the front instrument panel to present just a blank bulkhead. In addition there is a shelf behind the cockpit that appears to contain a radio.
Once the cockpit is together it can be inserted into one fuselage half and the fuselage halves glued together. Construction after that goes quickly. The upper wings are glued to the one-piece lower wing and then the horizontal stabilizers are added as well. Once the one-piece fin/rudder is glued on you have a complete airframe.
You'll need to decide if you're adding the landing gear prior to painting. It might not be a bad idea if your Trener is finished in a single color but if you have to mask you may want to reconsider. The only thing you'll need to look out for is one landing gear is longer than the other, and it's not as easy as removing material from its wings' mating surface. The extra length is in the shock absorber so you'll have to cut that off and shorten it.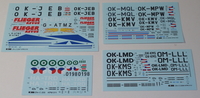 The items you may want to replace are the exhaust stacks. Removing them from the sprue and keeping them round could be problematic given their size so you may want to replace them with some other material.
The only difference between the boxings are the decals, and which nose pieces you use. There are two different noses, both sides and front. In addition there are two different propellors so you will have parts left over.
Conclusion
This is an excellent, first release from the new KP. The surface detail is really nicely done and the kit will go together quickly. In fact, KP's Zlin Trener could be a weekend build if finished out of the box.
My thanks to Kovozávody Prostějov for the review samples. Hopefully in the not-too-distant future I'll have the Full Build finished.