Internet Modeler : First Look : Aviation
RSS News Feed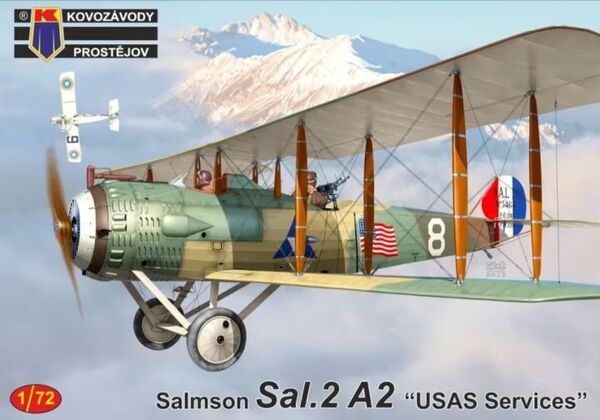 Kovozávody Prostějov 1/72 Salmson 2A2 "USAS Services"
Introduction
The Salmson 2 A.2 was a late WWI reconnaissance aircraft flown by the French and United States Air Service (USAS). According to Wikipedia, there were over 3000 2 A.2s built.
There definitely hasn't been a dearth of 1/72 Salmson 2 A.2 models, in fact it has been well represented in the past. However, none of those were a "mass produced" plastic, injected kit. We did have an injected kit from Pegasus from years past, but there was a lot the modeler had to provide to make it a decent model. Other forms of material for the 2 A.2 were vac-formed from the likes of Wings 72 and resin from CMR, Choroszy Modelbud and RVHP. The thinking is that this Kovozávody Prostějov injected kit can claim its lineage from either CMR or RVHP.
The Kit
The Kovozávody Prostějov (KP) 1/72  Salmson 2A2 consists of 32 pieces of gray, injected plastic (one part not used with this version) and a clear film for each windscreen. Decals are for three USAS Salmsons:
Serial unknown, Red 15, 24th Aero Squadron, November 1918
Serial Number 1319, Red 6, 12th Aero Squadron, 1918
Serial number 5464, White 8, 1st Aero Squadron, June 1918
Decals look nice but the truth will be in applying them. I had no luck with the decals from their Dewoitine D.500 so hopefully these will perform better.. All aircraft are finished in the French five-color scheme while the undersurfaces were finished in a light yellow called ecru, and NOT left in natural linen as KP has stated.
Naturally construction starts in and around the cockit. First you build-up the upper fuselage decking that sits on top of the cockpit. Since the instrument panel is sparten, there are no decals but the panel itself has nice raised detail that can be carefully picked out with painting. Then work continues with the cockpit floor, pilot's seat, control stick and rudder pedals, plus the gas tank that sat between the pilot and gunner, and center struts for the wing. This - and the observer/rear gunner's seat - are attached to one fuselage half and the halves glued together. KP does include decal seat belts. This page of instructions finishes with building up the four-piece cowling and prop, which, unless you want it spinning, is best left off until the end.
The construction steps now have you build up the aircraft. Attach the upper, forward fuselage piece assembled in step 1 along with the cowl, and follow that with the gun, sight, windscreen, etc. (again, all best left off until the end, prior to gluing the upper wing on). Next step has you add items for the observer/rear gunner but again, best left off until last.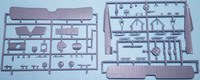 Attention is now turned toward the tail which includes struts and rigging wire but those details are naturallly best left off until later. The interplane struts are glued on, and I have a small complaint with all the wing struts. On the real thing, the French wrapped their struts with fabric to give them extra strength. KP decided to depict these strips of fabric with scribed lines. It's nice to have a consistent area to show this "feature", but as these were actual strips of fabric added to the struts they wouldn't be "sunk in". So, it might be best to fill these in, but only enough to keep their locations for when strips of decals are added later.
Turn the model over and you add the landing gear along with other underside items. Finally, add the upper wing and thankfully KP includes a full rigging diagram. Nice.
Peddinghaus Decals has released a number of decals for the Salmson, including a few with French markings.
Conclusion
Overall this is a nicely done kit and looks like a Salmson 2 A.2. I'm hoping this will build up nicely and with the purchase of Peddinghaus Decals, I'll be able to finish it as a French machine.
Many thanks go to Kovozávody Prostějov for the review kits.