Internet Modeler : First Look : Aviation
RSS News Feed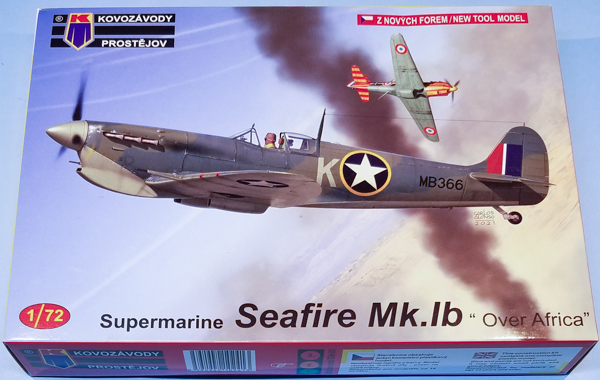 Kovozávody Prostějov 1/72 Seafire Mk.Ib
Introduction
Taken from Wikipedia:
"The Supermarine Seafire was a naval version of the Supermarine Spitfire adapted for operation from aircraft carriers. It was analogous in concept to the Hawker Sea Hurricane, a navalised version of the Spitfire's stablemate, the Hawker Hurricane. The name Seafire was derived from the abbreviation of the longer name Sea Spitfire.
"The idea of adopting a navalised carrier-capable version of the Supermarine Spitfire had been mooted by the Admiralty as early as May 1938. Despite a pressing need to replace various types of obsolete aircraft that were still in operation with the Fleet Air Arm (FAA), some opposed the notion, such as Winston Churchill, although these disputes were often a result of an overriding priority being placed on maximising production of land-based Spitfires instead. During 1941 and early 1942, the concept was again pushed for by the Admiralty, culminating in an initial batch of Seafire Mk Ib fighters being provided in late 1941, which were mainly used for pilots to gain experience operating the type at sea. While there were concerns over the low strength of its undercarriage, which had not been strengthened like many naval aircraft would have been, its performance was found to be acceptable."
The Kit
The Kovozávody Prostějov (KP) 1/72 Seafire Mk.I consists of 73 pieces of gray, injected plastic and a clear injected sprue with two parts - the one-piece canopy and the gun sight.
Since this release has the same sprues as what was released as their Spitfire Mk.Ib/IIb/Vb I'll refer the reader to that First Look for general parts break-down and construction steps. Since these releases had parts for those first three versions of the Spitfire, you'll have a lot of parts for your spares bin.
Add the new sprue with new fuselage halves, tail hook and fuselage underside and now you'll have an extra set of fuselage halves.
Pay attention to the construction steps for which parts to use for the Seafire Mk.Ib build.
There are decals for the following Seafire Mk.Ibs:
MB340, RN Air Section, Port Reitz, Mombasa, late 1944, flown by L/Cdr Duncan Hamilton (finished overall in a dark blue)
MB348, 'R' of No. 801 NAS, HMS Furious, November 1942, Operation Torch
MB366, 'K' of No. 801 NAS, HMS Furious, November 1942, Operation Torch
Those last two Seafire Mk.Ibs were finished with Extra Dark Sea Grey and Slate Gray on the upper surfaces with Sky Type S on the undersides. Decals appear to be in register.
Conclusion
As I mentioned in the First Look for the Spitfire Mk.Ib/IIb/Vb the KP "early" Spitfires are now the ones worth tracking down, especially in the amount of detail provided. There isn't much needed to be added to these kits to make them into first rate models. I'm looking forward to adding a Seafire to my Spitfire collection.
Many thanks go to Kovozávody Prostějov for the review kit.