Internet Modeler : First Look : Aviation
RSS News Feed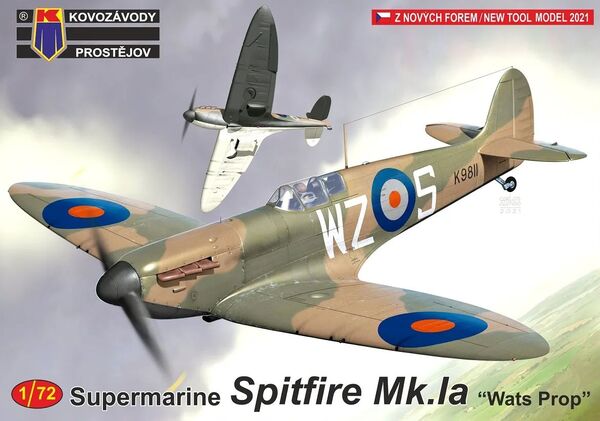 Kovozávody Prostějov 1/72 Supermarine Spitfire Mk.Ia "Watts Prop"
Introduction
The history of the Spitfire is vast. So vast most know about it and its history so I won't repeat that here. Know that for a short time the Spitfire flew with a two-bladed propeller early in its career and it's this configuration this boxing represents.
The Kit
The Kovozávody Prostějov (KP) 1/72 Spitfire Mk.Ia "Watts Prop" consists of 73 pieces of gray, injected plastic and a clear injected sprue with two parts: a one-piece canopy and the gun sight.
Since this release has the same sprues as what was released as their Spitfire Mk.Ib/IIb/Vb I'll refer the reader to that First Look for general parts break-down and construction steps. Since these releases had parts for those first three versions of the Spitfire, you'll have a lot of parts for your spares bin.
With that initial releasing of their Spitfires, know that this boxing does contain the earlier style wings with fabric ailerons and the two-bladed Wats propeller.
Pay attention to the construction steps for which parts to use for this build.
There are decals for the following Spitfire Mk.Ias:
K9811, No. 19 Sqd, RAF Duxford, Autumn 1939 (undersides are black/white)
K9794, No. 19 Sqd, Sqd Ldr Henry I Cozens, RAF Duxfor, October 1938 (undersides are aluminum)
K9843, No. 54 Sqd, Essex, February 1940 (undersides are black/white)
All three Mk.Ias are finished with Dark Green and Dark Earth uppers. Decals appear to be in register.
Conclusion
As I mentioned in the First Look for the Spitfire Mk.Ib/IIb/Vb the KP "early" Spitfires are now the ones worth tracking down, especially in the amount of detail provided. There isn't much needed to be added to these kits to make them into first rate models.
Many thanks go to Kovozávody Prostějov for the review kit.