Internet Modeler : First Look : Aviation
RSS News Feed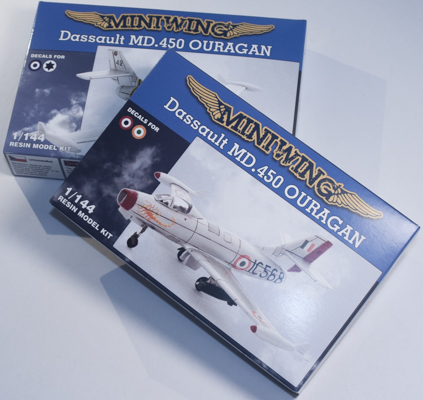 Miniwing 1/144 Dassault MD.450 Ouragan
The Miniwing 1/144 Dassault MD.450 Ouragan consists of 21 pieces of tan-colored resin, one clear-resin canopy and one vacuum-formed canopy. Also included in the kit is a set of masks for the canopies. The kit has been released twice so far, each release coming with different markings and decals. The first box contains markings for a French and Indian Ouragan, while the second box contains decals for an Israeli and El Salvador aircraft. Also included on the decal sheet are decals for the seat that include "belts" and a decal instrument panel. With the decals being designed by JBr Decals you can be assured of their high quality.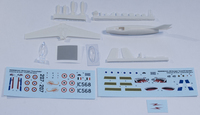 This is another Miniwing kit where construction should go quickly since the fuselage and wing are both single pieces. Glue the wing to the fuselage along with the horizontal tail surfaces, add the tip-tanks (which might best be left separate to help with painting) and you have a complete airframe. Paint the cockpit, add the painted-and-decaled ejection seat and the decal instrument panel, mask and glue on the canopy and the kit is ready for painting.
The last items to add to the kit are eternal stores racks (which might best be added before painting), external bombs and the landing gear and gear doors. Also separate is the exhaust, also best painted off the model and added later.
Conclusion
The Ouragan is another winner from Miniwing. With the inclusion now of masks and the decals being designed and printed by JBr Decals Miniwing kits have become even better. In addition they have changed their box design which is both good and bad. It's good because it's a colored box with the profiles of the aircraft you can model right on the back of the box. It's bad because it's an end-opening design and not as sturdy as their previous boxes.
Many thanks are given to Miniwing for sending these kits to review. These kits are also available from Kits-Shop.