Internet Modeler : First Look : Aviation
RSS News Feed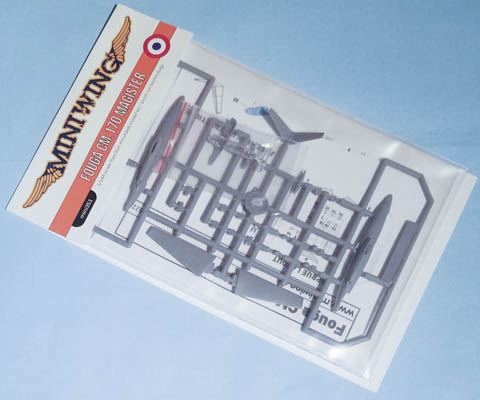 Miniwing 1/144 Fouga CM.170 MAGISTER France
Introduction
Taken from Wikipedia:
"The Fouga CM.170 Magister is a 1950s French two-seat jet trainer aircraft that was developed and manufactured by French aircraft manufacturer Établissements Fouga & Cie. Easily recognizable by its V-tail, almost 1000 have been built in France and under licence in West Germany, Israël and Finland.
"In 1948, development commenced at Fouga on a new primary trainer aircraft design that harnessed newly developed jet propulsion technology. The initial design was evaluated by the French Air Force (Armée de l'Air, AdA) and, in response to its determination that the aircraft lacked sufficient power for its requirements, was enlarged and adopted a pair of Turbomeca Marboré turbojet engines. First flying on 23 July 1952, the first production order for the type was received on 13 January 1954. In addition, the related CM.175 Zéphyr was a carrier-capable version developed and produced for the French Navy.
"While primarily operated as a trainer aircraft, the Magister was also frequently used in combat as a close air support platform by various operators. In the latter capacity, it saw action during the Six-Day War, the Salvadoran Civil War, the Western Sahara War, and the Congo Crisis. The Magister was also chosen by many aerobatics display team including the Patrouille de France (from 1964 to 1980). In French service, the Magister was eventually replaced by the Dassault/Dornier Alpha Jet. After its retirement by the French Air Force, Magisters were purchased by several private-owner pilots in the US and have since been operated in the experimental category."
The Kit
The Miniwing 1/144 Fouga CM.170 MAGISTER consists of 22 pieces of gray, injected plastic and a single injected clear canopy. The kit under review is one of their "bagged" kits so contains markings for only one Magister:
CM.170 c/n 423, 709 Cognac AF base, Armée de l'Air, 1970-1980 (finished overall in aluminum with "dayglo orange" accent panels)
Decals are nicely printed and appear to be in register. Also included are decal seatbelts - perfectly presentable in 1/144 - and decal instrument panels, although not shown in the instructions. Which is actually not good, because there appear to be two different instrument panel decals, since this is a double-seater, but the instructions don't show which decal goes on which instrument panel.
The first instruction step is building up the cockpit and adding it to the starboard fuselage half. The cockpit is very nice for the scale and injected plastic: plenty to make it "busy" with the canopy closed (and since it's a one-piece canopy, surgery will need to be performed if you want to open it up). Some might consider the control sticks "chunky" but I think they're perfect for displaying the model with a closed canopy. Looking at the cockpit pieces in detail, you can see raised detail on the instrument panels and the side consoles. Nice!
Note that Miniwing shows 5 grams of weight to be added to the nose so it doesn't sit on its tail.
Once the cockpit is added to the starboard fuselage half, then the halves are glued together, wings and v-tail glued to that assembly along with the canopy, wingtip tanks (each being one-piece) and intakes. Note you'll want to mask the canopy prior to painting. While Miniwing doesn't include masks, Peewit does have them in their range.
Now stuff on the underside is added, but I would wait to add all of it until after painting: main landing gear and wheels (note the landing gear and main gear doors are molded as one-piece); and nose gear and gear door.
Conclusion
This is an excellent example of the Fouga CM.170 MAGISTER in 1/144 and will look great when finished. I'm hoping someone - maybe Brengun - releases a vacuum-formed canopy so all the interior detail can be displayed.
Be aware that Miniwing has multiple releases of the Magister: this carded kit with a single French option; a 2 in 1 boxing with three different decal options; Fouga CM.170 MAGISTER Israeli AF carded single kit with one marking option; Fouga CM.170 MAGISTER Belgian AF carded single kit with one marking option; and Fouga CM.170 MAGISTER Irish carded single kit with one marking option.
I definitely thank Miniwing for providing the review sample.