Internet Modeler : First Look : Aviation
RSS News Feed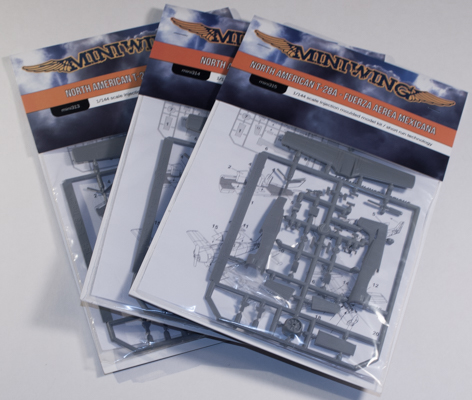 Miniwing 1/144 T-28A Trojan
Introduction
Taken from Wikipedia:
"On September 24, 1949, the XT-28 (company designation NA-159) was flown for the first time, designed to replace the T-6 Texan. The T-28A arrived at the Air Proving Ground, Eglin Air Force Base, Florida, in mid-June 1950, for suitability tests as an advanced trainer by the 3200th Fighter Test Squadron, with consideration given to its transition, instrument, and gunnery capabilities. Found satisfactory, a contract was issued and between 1950 and 1957, a total of 1,948 were built."
The Kit
The Miniwing 1/144 T-28A Trojan consists of 29 pieces of gray injected plastic and one injected canopy. Based on which marking you want with the kit is when you make your purchase decision, as there is only one aircraft per "bag". Those countries covered, so far, by Miniwing are for the USAF, RoCAF and Mexico. Decals appear to be nicely done and in register, and also contains instrument panels.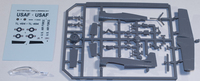 The instructions are on one sheet of paper and construction starts with the cockpit. The kit comes with a cockpit floor, two seats and both the front and rear instrument panels "mounted" on bulkheads. The instuctions do call for five grams of weight to be put into the cowl so include that before you start gluing everything together. Once the fuselage halves are glued together and the cowl is added to the assembly then the flying surfaces are added. Since the canopy is one-piece you might want to add it as well, after masking it of course. I would leave everything else off – landing gear, wheels, landing gear doors, prop – until after painting and decaling.
Conclusion
This is an excellent rendition of the T-28A in 1/144. There are some pieces included that aren't used, including a three-bladed prop, so other versions could be on their way. Miniwing has done a great job so this will look great when finished.
I definitely want to thank Miniwing for sending the review kits.