In looking through the pile of kits received for review, I came across the Miniwing Go-242 A-1 and finally remembered I hadn't provided a First Look of this kit.  So, here it is.
The Miniwing Gotha Ga-242 A-1 consists of x resin pieces and two vac canopies.  I've very thankful to Miniwing for providing the second one, "just in case".  Murphy resides at my house, so having two is a way to finally beat him.  There are decals for only one machine, that from Transport Group 7/TG4, on the Eastern Front, 1943.  The scheme has a shark mouth and eyes on the canopy, so it will look menacing once finished.  Okay, maybe some people don't consider 1/144 scale menacing, but it will look great, nonetheless.  Again, like with all Miniwing releases the decals are ALPS generated, so my comments about those type of decals apply – care when handling and be sure to coat them with Future (or some other overcoat) immediately after applying.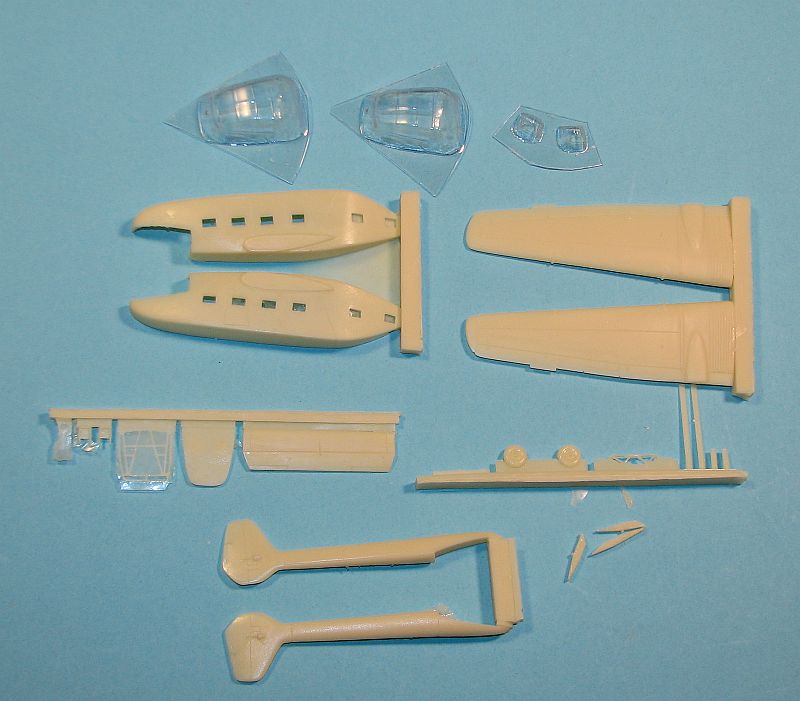 The cockpit in the kit is decent enough, consisting of a floor with seat buckets molded in-situ, separate seat backs and a control column.  Also included for the interior is a bulkhead behind the cockpit.  Not included is anything else for the back of the fuselage – no seats, nothing in the troop-carrying area.  If you were "crazy" enough, you could superdetail the insides and cut the rear doors to display that area.  Actually I would like to see someone do that, and show naysayers just how serious 1/144 modeling has become.
Once the cockpit is painted and finished (the instructions calling for an RLM02 interior color) then you glue the fuselage halves together and add the rest of the pieces.  There aren't many pieces to the kit so construction should be quick.  However, the wings and booms are butt-joins, so you may want to "peg" these for added strength.  Included in the kit is a wheeled dolly that would move the glider on the ground easily.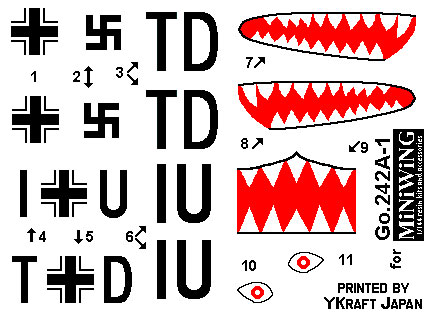 Color call out for the scheme is RLM 71, RLM 70 over RLM 65, with an RLM 04 stripe on the rear fuselage.  Typical German scheme.
Conclusion
I have yet to see a Miniwing kit that hasn't been very nicely cast.  I have seen no pinholes/bubbles in any of the resin pieces and they're all clean.  Not all resins are this way.  If you're looking for a 1/144 German glider, especially the Go-242 A-1, then Miniwing has the kit for you.
Again, thanks to Miniwing for providing the review kit.  Thankfully I have a reviewer lined up to build this, so hopefully in the next few months you'll see this as a Full Build.