Internet Modeler : First Look : Aviation
RSS News Feed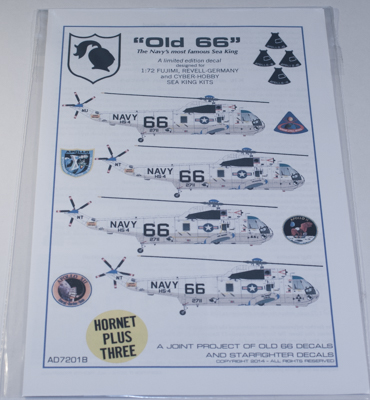 Old 66/Starfighter Decals 1/72 Apollo 8-12 Recovery Decal
Almost two years ago we reviewed a set of decals that Old 66 and Starfighter Decals collaborated on to present decals for "Old 66", a Sikorsky Sea King, as she looked when she picked up the astronauts from Apollo 13. Those two companies have collaborated again, releasing markings for the "other" missions "Old 66" flew, for Apollo missions 8-12.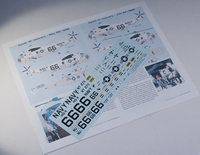 The decals are meant for either the Fujimi, Revell-Germany or Cyber-Hobby kits and not only do you receive all markings for all four missions ("Old 66" did not participate in the Apollo 9 mission) but you receive extensive research into all four aircraft and what needs to be accomplished to accurately model those helicopters. Some of this includes scratch building cameras and the like dependent on the machine.
What you don't receive are stencils and other detail markings and the instructions do state you need to source those from elsewhere - I would guess from the kits' themselves. But in any event, if you have any interest in these helicopters than you'll definitely want this set of decals.
Many thanks are given to Starfighter Decals for sending this set in for review.