Internet Modeler : First Look : Aviation
RSS News Feed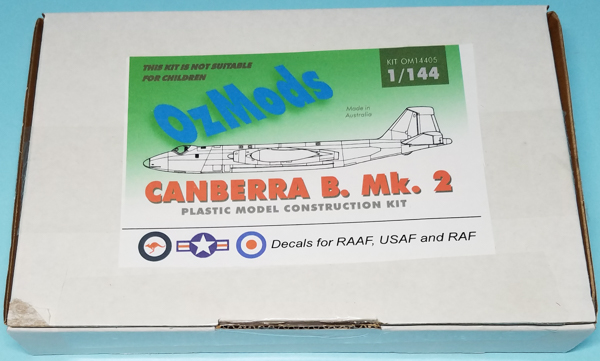 OzMods 1/144 English Electric Canberra B. Mk. 2
Introduction
We first reviewed the OzMods 1/144 Canberra B. Mk. 2 back in 2002. Read on for the differences.
The Kit
The OzMods 1/144 Canberra B. Mk. 2 consists of 46 pieces of white, injected plastic, two sets of vacuum-formed clear pieces, and two injected plastic clear pieces (for all, the canopy and the clear nose piece).
This release differes from the earlier release in two main ways. First and foremost - and thankfully - the type of plastic OzMods now uses has changed. In the past, their plastic was very brittile and was brone to breaking without the slightest provocation. Now the plastic is a little more forgiving - more like "normal" injected plastic - but the parts are still attached to the sprue with large gates. You still want to remove the parts with a saw, though.
The final difference is in the markings the kit now comes with:
RAF 45 Bomber Squadron English Electric Canberra B.2, Singaporte Early 1960s (finished in typical RAF scheme of Light Aircraft Grey on the undersides, and Olive Drab and Extra Dark Sea Grey on top)
Royal Australian Air Force ARDU B.2 Canberra (finished overall in "silver")
United States Air Force 363rd TRG RB-57A Canberra, 1950s (finished overall in black)
There is a little bit of plastic surgery involved with this release. In order to fit the plastic injected, clear canopy you'll need to slightly sand the area around the cockpit opening (which isn't needed if using the vac canopy). In addition, you'll need to cut off the kit's nose if you plan on using either the vac or injected clear nose piece.
There is nothing mentioned about adding nose weight but I would be surprised if it isn't needed.
If the kit markings aren't to your liking, Shelf Oddity has a set of other RAF markings for the Canberra. They also provide a set of stencils if you want to go all out in marking your bird. Finally, Master has released a set of turned brass, nose pitot tubes.
Note that if you choose to make the RB-57A from this kit, the US-produced Canberras were slightly different than their British cousins. However, in 1/144, the only thing I plan on altering is adding the intakes on the lower front of the engine nacelles. Everything else in this scale is extremely minor, but if you're interested, Chris broke out all the changes in his initial review of this kit.
Conclusion
Since my plan is to build all the USAF recce variants of the Canberra, this is a good start. While I have the OzMods RB-57D conversion I'll need to acuire the rest. I just hope someone decides to come out with the RB-57E in this scale.